One plugin. Endless possibilities.
Access Shutterstock's exceptional, royalty-free content straight from your most used programs. Download our plugin for Adobe Creative Cloud® applications today.
Download Free Plugin
Works for the Adobe Illustrator®, InDesign®, Photoshop®, and Premiere Pro® applications.
Creative success in three easy steps
The Shutterstock plugin takes the complexity out of creativity.
Search
Choose content from Shutterstock's incredible collection. Search or browse our curated choices.
Preview and Edit
Take your ideas for a test run. Edit watermarked content for free.
License
Love how it looks? License the content and edits will be automatically reapplied.
Save time with the Shutterstock plugin, whether you're designing or editing
Adobe Photoshop
Access the largest, freshest collection of images without leaving the Adobe Photoshop® application with our original plugin, now updated.
Discover the new features:
New curated Collections of portraits, scenery, and backgrounds
More streamlined design, to save even more time
Even more royalty-free content to discover
Adobe Illustrator
Create graphics, illustrations, icons, and more with our plugin for the Adobe Illustrator® application. Get easy access to millions of vectors or explore our specially curated Collections including:
Backgrounds, such as textures and patterns
Characters, from flat to 3D, pop art to silhouettes
UI elements, with templates, icons, fonts, and infographics
Adobe InDesign
Design without delay with our plugin for the Adobe InDesign® application, whether it's for print or digital, you'll find images for every design project.
Get any image you need without leaving the application
Preview any watermarked image for free
Love it? License it. Want something else? Replacing it is easy
Adobe Premiere Pro
Work without interruptions or distractions with the Shutterstock plugin. Access over 7 million video clips without leaving the Adobe Premiere Pro® application.
Preview and edit full resolution clips directly in your timeline
License them and your edits will be automatically reapplied
Search video clips by frame rate and resolution
Browse our Director's Choices, with establishing shots, production elements, and more
Get instant visual inspiration
Find beautiful and useful content for each application, curated by industry experts.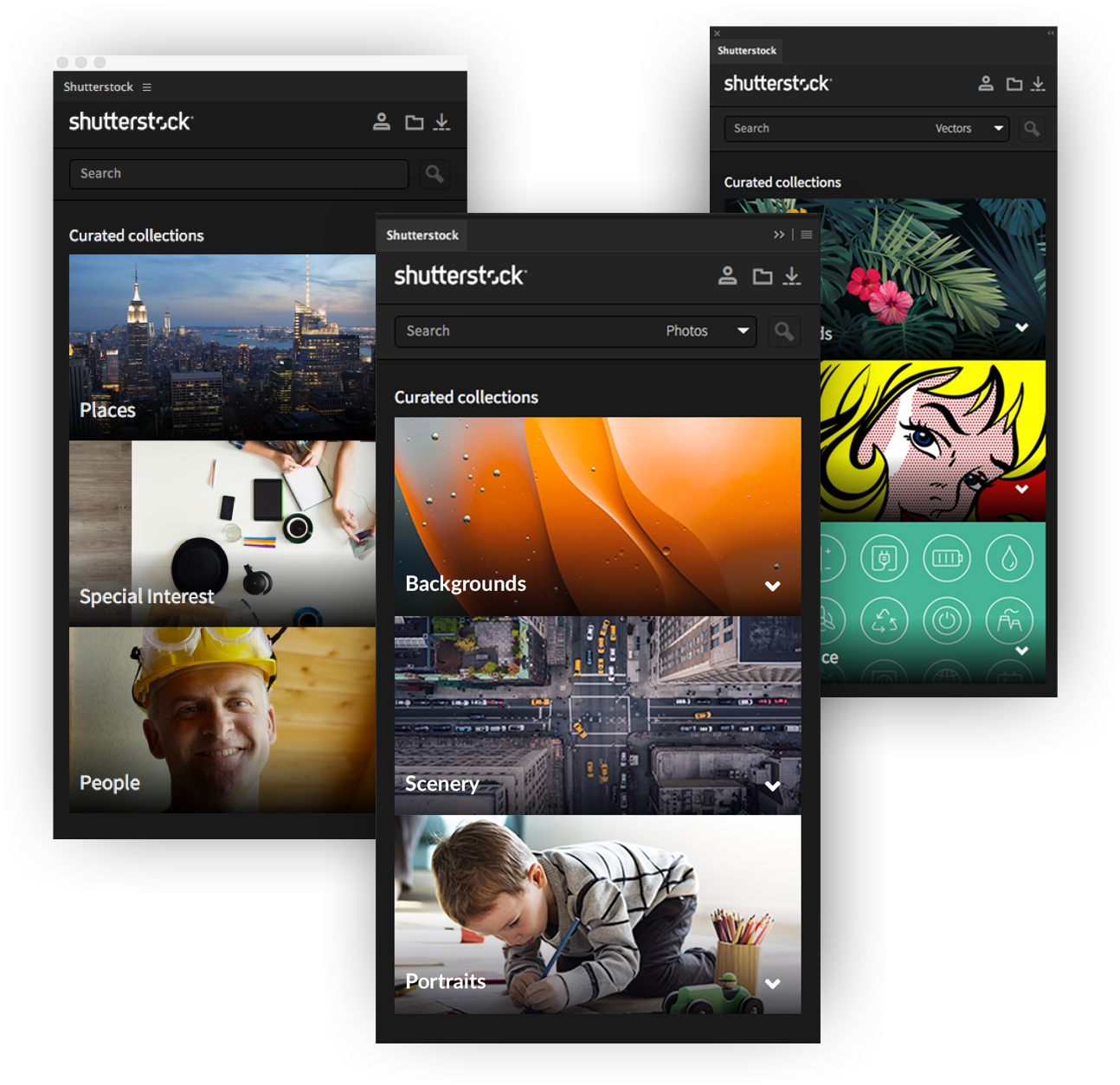 Discover the possibilities.
See what you can do with our plugin for Adobe Creative Cloud® applications.