Swipe-up Instagram Stories are a great way to get users on your site. Here's how to use the feature, and how to work around it if you don't have access.
Instagram is constantly adding and improving upon features to make it easier for businesses to drive traffic to their websites. After the platform introduced Instagram Stories, swipe-up links quickly followed. Swipe-up links allow certain businesses and brands to add clickable links to their Instagram stories. They can direct users to product pages, landing pages, and other external websites. Whereas the results on Instagram posting used to be somewhat elusive (how do likes and follows correlate to clicks and purchases?), swipe-up stories promise a traceable return on investment.
Before you run to Instagram to start adding links, we have some key info and tips for making your swipe-up link shine.
How to get swipe-up Stories on Instagram
Unfortunately, Instagram has locked the swipe-up feature for most accounts. To unlock this feature, your account must fit the following criteria:
Be an Instagram Business Profile, and…
Have over 10,000 followers
OR
Be a verified Instagram account
If you fit the criteria above, Instagram will automatically unlock this feature, and you will be able to access it while creating stories.
But, if you haven't built up a large enough following yet, don't fret! There is another way to access swipe-up links by running an Instagram Story ad. When creating a paid ad through Instagram, you can add a swipe-up link to direct users to click on. This is a great option for businesses that are looking for a quick lift in web traffic or to target your content to new users. You can begin advertising on Instagram stories for less than $10, and by using the advice outlined below you can get the best ROI for your spend.
For many small businesses and brands, even an ad is out of the question. In that case, you'll have to stick to the tried-and-true "link in bio" method. In your story, you can deliver a CTA by directing people to click the link in your bio. It's not the prettiest work-around, but almost all Instagram users are used to seeing this. You can still track the performance by checking on "website clicks" in your Instagram Insights panel (only available to business accounts).
Why use swipe-up links in your Instagram Story?
Swipe-Up links make it easy for users to click-through to your website. It removes the additional step of having to visit your profile to find the link. You also have the added benefit of using multiple links in a series of stories. More advanced users can also add UTM parameters or other tracking measures for a closer look at what content is performing the best.
Swipe-up links also pair perfectly with Instagram's native analytics, which give you in-depth data to see how people are interacting with your content and website. Among other metrics, the Instagram Insights panel shows you the impressions, reach, and of course, clicks on your swipe-up link.
If you want to go super pro-marketer on Instagram, swipe-up links are also a great opportunity to perform A/B testing on your content! A/B testing is the practice of comparing two types of content for performance. You can use the same swipe-up link with two differently designed stories to see which garners more clicks. You can also direct people to different landing pages with the same content to see if one converts at a higher rate. For example, you might try the same headline and CTA with two different images. Use that data to inform future content decisions based on which content performs best.
How to make swipe-up Instagram Stories
For those with the swipe-up link unlocked, or accounts running paid advertising through Instagram, creating a story with a swipe-up link is simple.
When you go to create a story, there will be an additional setting available at the top of your screen to add a link. You simply input the link you want to drive traffic to, and Instagram will automatically add the swipe-up feature to the bottom of the screen when users view your story. Previously, users would need to take into consideration the placement of the swipe-up link on the screen to make sure it didn't cover up anything important. Thanks to an Instagram update, this issue has been resolved by adding more black space beneath the story panel.
Make sure to verify that the link is directing to the proper webpage before posting. Users won't be able to see the URL when they view the story, and the only way to update the link is to remove the story (or advertisement) and repost it with the correct link.
Design considerations for swipe-up Instagram Stories
To help get you started, we've compiled a few examples of ways to enhance your swipe-up links to drive more traffic to your website.
Add text
It sounds easy, and it is. Text is an effective way to get people to click. Conventional wisdom states that the best way to get something is by asking for it, so make the action you want users to take clear. Many brands put stylized text on their stories that tell users there's a swipe-up link. This is also a great opportunity to incorporate your brand identity in an otherwise generic template.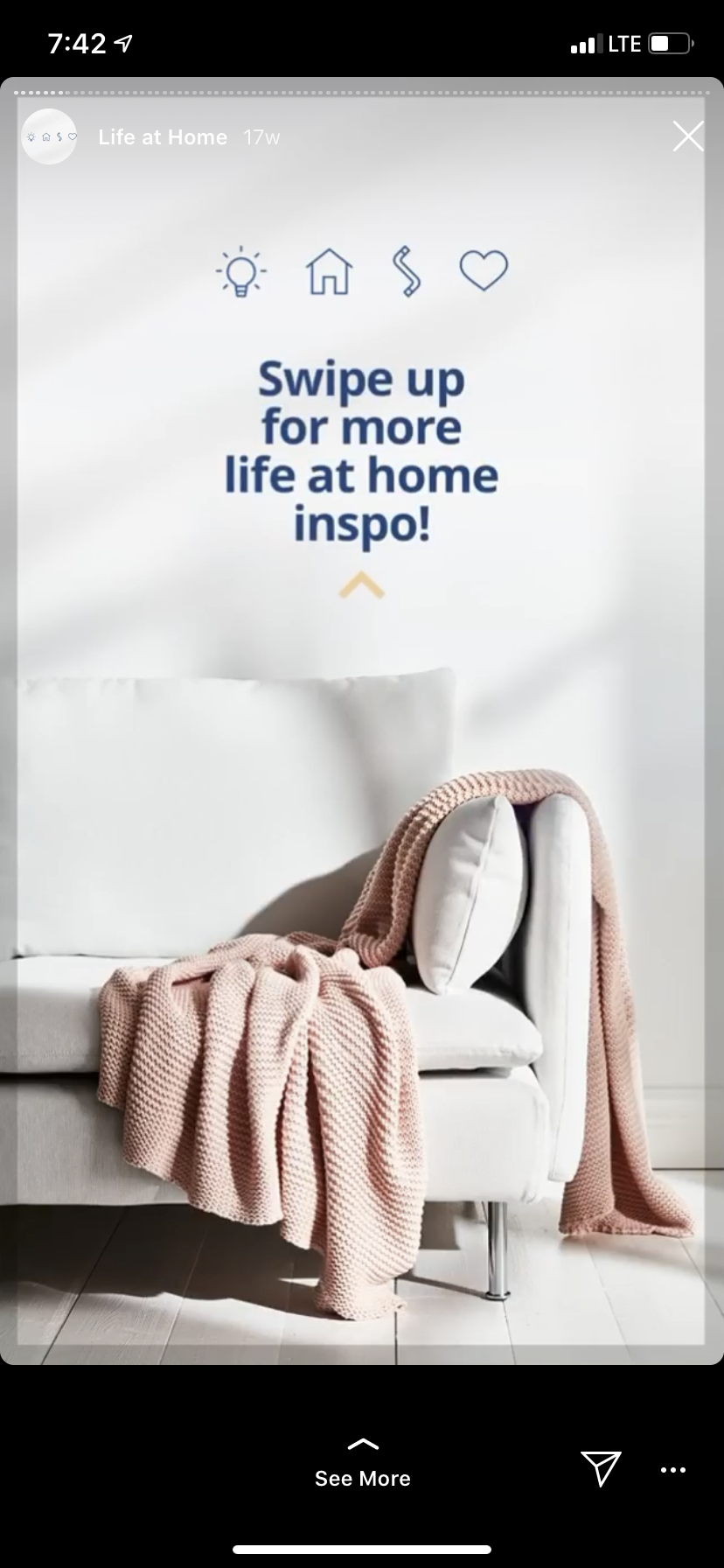 By outright asking users to swipe-up, you bring their attention to the link, which naturally increases the odds that they'll click!
Add animation
Animations are another way to add an eye-catching feature to swipe-up stories. You can use some of the native GIFs that Instagram provides, or you can go rogue and create animations to loop in your story. Common animations to include are arrows that point to the swipe-up link, moving text, and accent elements that draw the eye to the swipe-up link.
Teaser or sneak peek
Another way to entice people to click on your swipe-up link is by providing engaging content. Many brands and musicians will post a short teaser video of the product they're promoting, and tell users to swipe-up for the full video. If you're an avid user of IGTV, it integrates perfectly with Instagram Stories.
Similar to teasers, bloggers and news sources often post a photo of the headline along with the opening paragraph of their article as a lead-in, with a swipe-up link to allow people to continue reading. These posts are great for creators that are talented with copywriting, or if you've got a great listicle to share. Don't think that these have to be static images, though. You can incorporate animated graphics, text, and stickers that add some style to your copy and screenshots.
In regards to specs, click to learn the basics of Instagram stories. Or, if you want to design your own content, you can learn how to make an Instagram story template.
---
Discover more tips for building your brand on social media: