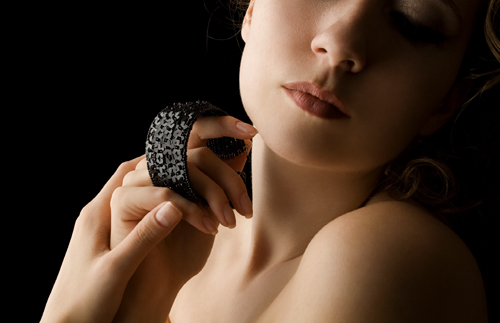 Story Behind the Photo is an ongoing series that highlights a unique story behind a photo or photos created by a Shutterstock submitter. This month's featured story comes from Catalin Plesa. Catalin recently submitted a batch of photos to Shutterstock, only to learn that the image below was the 5 millionth image added to the Shutterstock library – a key milestone for us as an industry leader. To commemorate this special event, we caught up with Catalin to learn more. You can view his gallery here.
Shutterstock: What is the story behind the photo?
Catalin: There is always a story behind a photo, and I think most of your contributors would agree—be it that you prepare some fruit that should look its best in a magazine, or choosing the best model that you have for the perfect beauty/fashion shot.
In this particular case, the "perfect model" is my wife, looking her best in her boudoir, holding a bracelet that she bought specifically for this picture.
So what better compliment could I receive for my efforts as a photographer, than seeing my own wife celebrated as the 5 millionth image for Shutterstock!
Shutterstock: Are you a professional photographer or an amateur/hobbyist? For how long?
Catalin: Photography for me began as a hobby, since I was trained to be an engineer. I bought a camera two years ago, not knowing that it would help me build a totally different career.
Shutterstock: What kind of camera did you use?
Catalin: After wandering a bit and photographing everything from my own amateurish perspective, I realized that I could upgrade a little and bought a Canon 400D [Editor's note: the Canon 400D is the Canon XTi here in the United States]. Although I believe I could do better, I am rather pleased with the results this camera has offered me so far.
Shutterstock: How has your experience with Shutterstock been?
Catalin: I joined Shutterstock in April 2007 and have constantly increased my income and have been very pleased with everything that is going on in the agency.
Since I joined Shutterstock, due to the constant competition for downloads, I have been trying to improve both the quality of the images as well as their commercial potential—so much so, that in one year I have managed to put together a studio that I can use both for taking stock and artistic photos, like what became Shutterstock's 5 millionth.
* * *
Shutterstock announced the landmark addition of the 5 millionth image to its extensive collection of premium stock images on November 3, 2008. We are very pleased to have reached this
, and we are delighted to offer such a vast, quality resource to all of the creative professionals who turn to us for their image needs. We will continue our mission to supply an extensive library of premium photos, vectors, illustrations and footage clips at affordable prices.
Thank you again for being a Shutterstock subscriber and don't hesitate to contact us if you ever need assistance or have suggestions.