Discover tips from six pro photographers as they share their secrets for capturing intimate and extraordinary portraits.
Some portraits define a generation. Consider Dorothea Lange's ​Migrant Mother, Arthur Sasse's photo of Albert Einstein, age 72, sticking out his tongue, or Steve McCurry's picture of Sharbat Gula, commonly known as ​Afghan Girl​—to name just a few from the 20th century. A photograph of a powerful face can haunt our imaginations and even restructure public policy, but in a digital world, it's harder than ever to create a portrait that stands the test of time.
Take a quick scroll through Instagram, and you'll see what we mean. There are currently over nine million images tagged #MakePortraits, and another two million filed under #PortraitOfTheDay. And that's just a fraction of the portraits out there on the internet. But, as the popular hashtag #PostMorePortraits suggests, we still want more.
With so many images flooding our consciousness, it takes something special to break through the haze. Maybe it's a piercing set of eyes, a striking historical reference, or a mysterious expression. We crave portraits that surprise us, stop us in our tracks, and defy the status quo. We asked six photographers to tell us how they collaborate with models and friends to create images that are far from ordinary. Below, they share their stories plus behind-the-scenes tips for emerging portraitists.
1. "I'm inspired by anything and everything that surrounds me: nature, people, objects, and the atmosphere of the moment."
Alexei Vladimir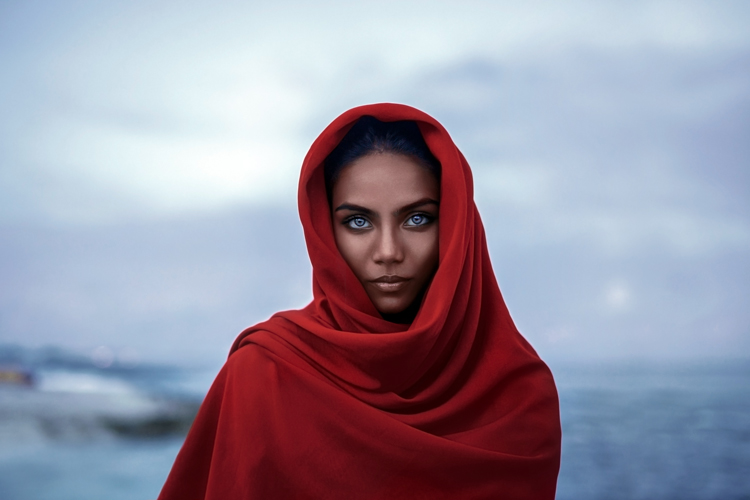 Image by Alexei Vladimir. Gear: ​Canon Mark II​ camera, ​50mm 1.8​ lens. Settings: Exposure 1/1000​ sec; f1.8; ISO ​1600​.
What's the story behind this photo?​
This is a portrait of the model Raudha Athif from April 2015. For me, its meaning lies in the fact that the invisible part of who we are is more important than what's visible. No matter how trite it might sound, the soul is what matters. To see that invisible element, you need to capture a special look, and Rauda had special eyes. It was sad that such a soulful person passed away so young.