Rococo styles and muted hues are making an elegant comeback. Elevate invitation and poster designs with the help of these 20 free pastel color combinations.
Our 2019 Creative Trends Report identified a 160% increase in vintage romantic designs, in addition to a 1277% increase in damask searches. Designers of all disciplines are taking inspiration from the world renowned Late Baroque, or Rococo, period by injecting hints of pastel hues, decorative swirls, and asymmetrical forms. This increase in historical influence varies greatly from the more vivid and vibrant take on design, the Prism trend. Instead of neon and fully saturated hues, Rococo Romance focuses on sensual points of light and shadow, soft pastels, and ornaments.
Love one these color combinations? Be sure to pin it on your design mood board for inspiration later. Scroll to the bottom to get your free pastel swatch download so you can easily access all of these color palettes in any design application. If you're using an image editing program, such as Shutterstock Editor, you can type out the six-digit hex codes on each palette.
---
1. Majestic Monet
Image via Everett – Art.
---
2. Victorian Decor
Inspired by Rococo Romance, one of our 2019 Creative Trends, this baroque-inspired graphic marries beige and cool muted hues. Use this complete palette for an effortless neutral wedding invitation design, or sprinkle in one of the swatches to tone down your design.
Image via InnaFelker.
---
3. Wedding Rose
Image via Sutasinee Anukul.
---
4. Rococo Room
This living room interior takes all stylistic cues from from the Rococo period. The pastel blues and pinks make this color palette easy on the eyes and versatile for any application.
Image via L Julia.
---
5. Pink Peonies
Image via Elena Schweitzer.
---
6. Cosmetic Glamor
A glamorous and alluring palette, this combination of colors takes inspiration from makeup palettes and high-fashion accessories. Pair a powder pink with a pastel blue, and extend the palette with tints and tones to create a chic and harmonious take on a pastel color scheme.

Image via Igeshiva Maria.
---
7. Liquid Marble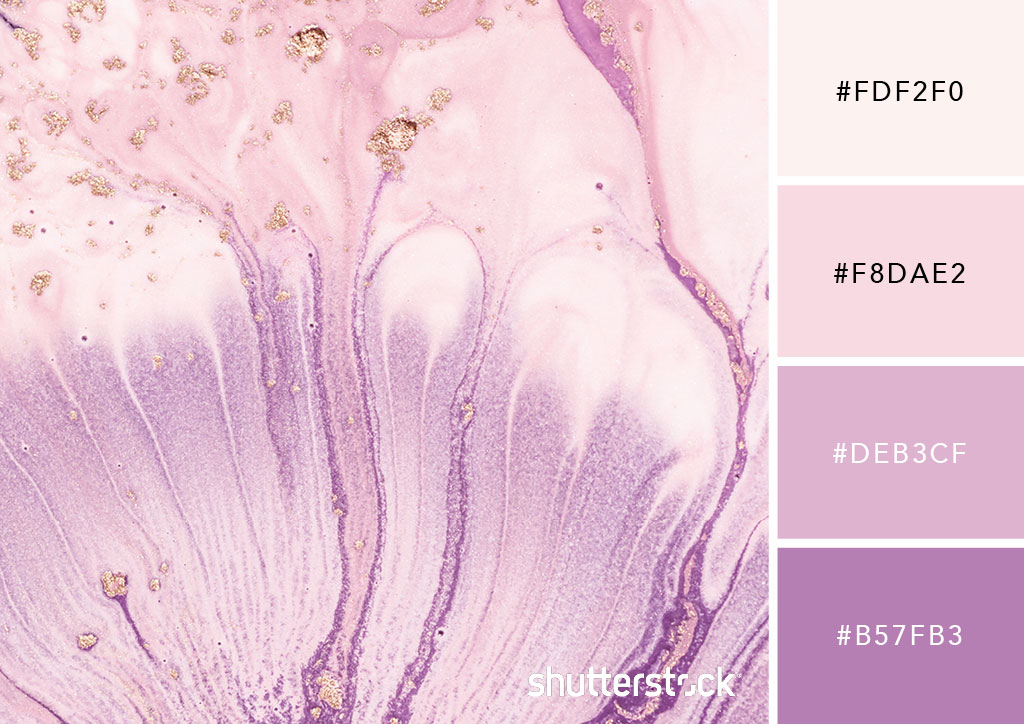 Image via CARACOLLA.
---
8. Lavish Landscape
Take inspiration from the light hues present in nature with this versatile color palette. Fully saturated greens, blues, and purples typically aren't seen together due to their bold personality. When taken down a notch with the help of tints, these three hues bring forth a whimsical air.
Image via Feel good studio.
---
9. Floral Filigree
Image via CastecoDesign.
---
10. Textured Brush
Inspired by textured acrylic paint, this soothing palette combines opal blue, soft pink, dusty pink, and dusty blue for a creative take on a complementary color scheme. By extending a rather vivid scheme with tints and tones, this palette takes the intensity down a notch.
Image via Ekaterina Pinknettle.
---
11. Sweet Succulent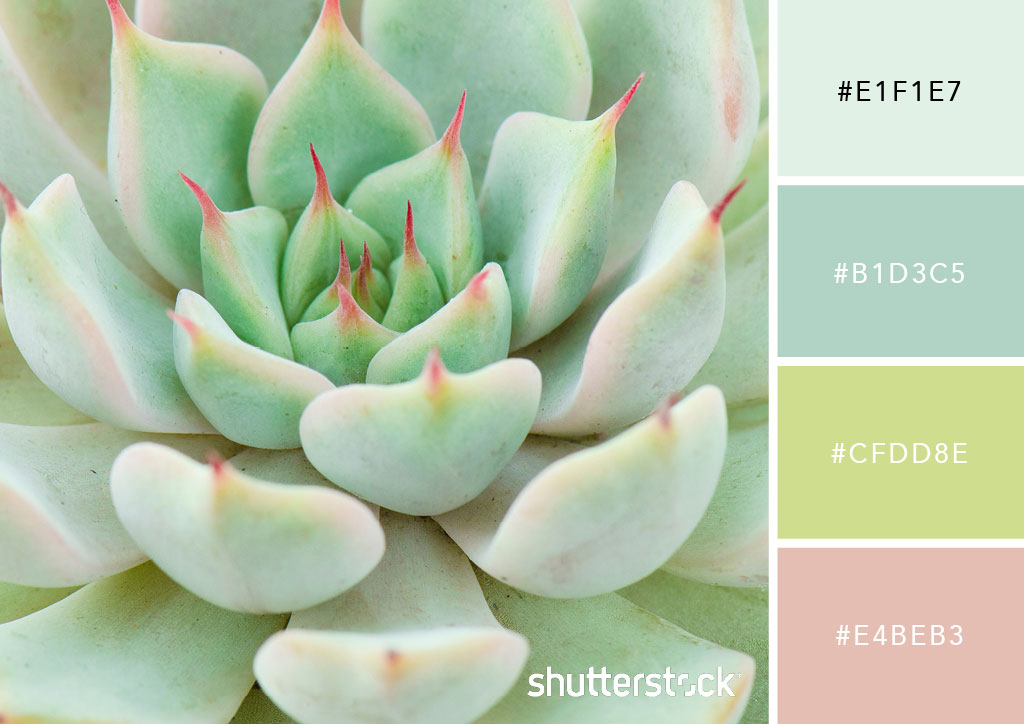 Image via panattar.
---
12. Pastel Pastries
These delicate macarons showcase how pastel hues can pack a dainty punch. The warm hues in this palette emulate the sunset and can be applied to a range of designs.
Image via Vladyslav Lehir.
---
13. Fallen Petals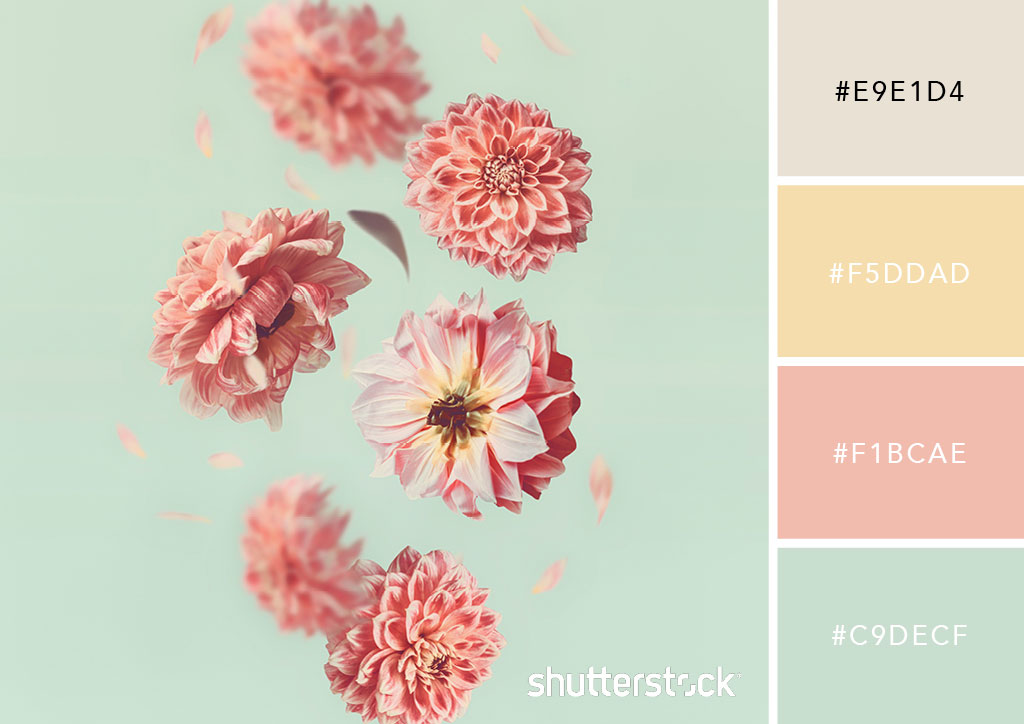 Image via VICUSCHKA.
---
14. April Showers
This palette certainly keeps the rainy blues away with its pair of candy pink and opal blue. Keep the color scheme minimal by injecting ecru, or add in more excitement to the palette with blue lagoon.
Image via Apichart Meesri.
---
15. Flower Wall
Image via C E Newman.
---
16. Cerulean Ceramic
The soft monochromatic hues of this ceramic set create a color palette that is both harmonious and easy on the eyes. Extend a pastel blue palette with the help of tints, tones, and shades.
Image via Life morning.
---
17. Dreamy Skies

Image via Betelgejze.
---
18. Fluffy Feathers
Contrast a cool hue, such as a deep purple, with a warm orange to keep your composition interesting yet cohesive. By pairing warm with cool tones, there is added dimension and visual intensity within your design.
Image via Happy_stuido.
---
19. Distressed Panels
Image via pongpinun traisrisilp.
---
20. Angelic Glow
Give your designs an ethereal glow with the help of cream, chamois, cameo pink, and periwinkle. This effortless mix of both warm and cool hues give any project a graceful balance.
Image via denegru.
---
Download Swatch Files
Download these twenty free pastel color palettes by clicking the button below. All of these swatches are available in the RGB color profile, so they're ideal for any digital design.
These assets are free for personal or commercial use. By downloading, you agree not to redistribute these files.
Swatch files allow you to quickly apply color to any design element in your document — you can open these swatch files in any Adobe design program. In other design applications, such as Shutterstock Editor, you can simply type out the unique six-digit hex codes labeled for each color swatch above.
How to Use Your Free Swatches in Adobe
In Adobe Illustrator, click the hamburger dropdown in the Swatches panel and select Open Swatch Library > Other Library, then import one of the swatch files. The color palettes will appear in a new window, ready for your design.
In both Adobe InDesign and Photoshop, open the Swatches panel and click on the hamburger dropdown menu. Select Load Swatches and import an individual swatch file to see it pop up within the panel.
You can apply these unique color palettes to any vector shape, text object, gradient, or background layer. Use the pastel palettes to make a stunning wedding invitation or social graphic.
How to Use Your Free Swatches in Shutterstock Editor
With a shape or text object selected, head over to the Fill Color or Stroke Color menus. Then, click on the circle shape to bring up the Presets and Custom tabs. Select the Custom tab and enter the six-digit hex code in the Web Color box.
Editor's new gradient feature allows you to easily apply these color palettes to a linear gradient. Simply select Gradient from the Fill Color dropdown, click the gradient stop, then enter the hex codes in the Web Color panel.
---
Cover image via Elena Ermishina.
Interested in more free design resources? Check these articles out: