Color matters. It's the difference between your outfit being edgy or ugly. It's the difference between a vivid blue sky and an oversaturated one that looks like a nuclear disaster. It even can make a difference in how people behave; some design experts swear that people are more likely to click a red button than a green one. All of this is why choosing a color pallet for your designs deserves careful attention.
Fortunately, a variety of new, free web-based tools are making color selection easier than ever. These tools can help make your designs look beautiful even if you barely know the first thing about color theory.
Below, we've highlighted three of our favorite online tools that can help you choosing a color pallet. All three let you build color themes and save them in formats you can import into other programs. Play around with each site and find the one you like best.
And remember: You can use the color search function in Shutterstock's search technology to find images that match any color. Paste any color's six-digit hex code into the color box in the advanced search tool and see the results.
Kuler
When you first visit Adobe's Kuler program, it displays a series of pre-saved color themes arranged by user ratings. You can click "Create" to build your own color pallet of 3 to 5 colors. The program uses preset formulas to pluck matching colors from around a color wheel. One of the coolest features is Pulse, which shows a graphical representation of the site's most popular colors.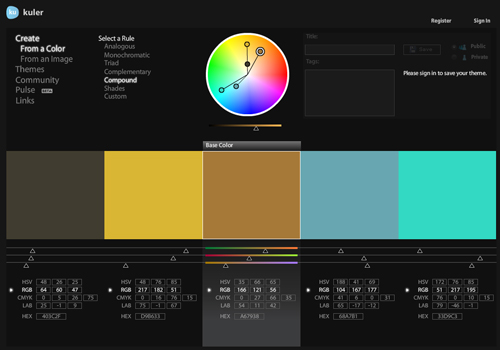 Aviary Toucan
Aviary provides a variety of web-based creative tools, and their color editor, Toucan, is one of the most fun. It is more complicated than Kuler but also more flexible, letting you create schemes of up to 19 colors spaced around a color wheel using various distribution patterns. Look under "params" for the # setting to increase the number of colors. It also includes an immensely helpful tool called the Color Deficiency Preview, which shows how your color schemes will look to viewers with various degrees of colorblindness.
Color Scheme Designer
Color Scheme Designer, built by Czech web designer Petr Stanicek, looks deceptively simple: Click on the color wheel to produce a series of harmonious colors. But dive deeper and you'll find some professional-grade color tools, including colorblindness previews, sample page layouts, Pantone color matching, and five export formats.
Related Shutterstock Blog post: See Pantone's 2011 Color of the Year
Related post from our January 2008 newsletter: Choosing the Right Color