Along with the new On Demand subscriptions, Shutterstock now allows you the option of managing multiple subscriptions all under one account.So what does this mean? If you purchase a 25-A-Day subscription and an On Demand subscription, you can manage your subscriptions from one login. When you choose a particular image to download, you also choose which subscription plan you wish to use to download that image.For example, a subscriber may have a 3 Month 25-A-Day subscription, supplemented with a 25 Download, All Sizes On Demand plan and a 12 Download, Small/Medium On Demand, AND a 10 Download Enhanced License subscription.
Sound confusing? It's really not. Here's how it looks: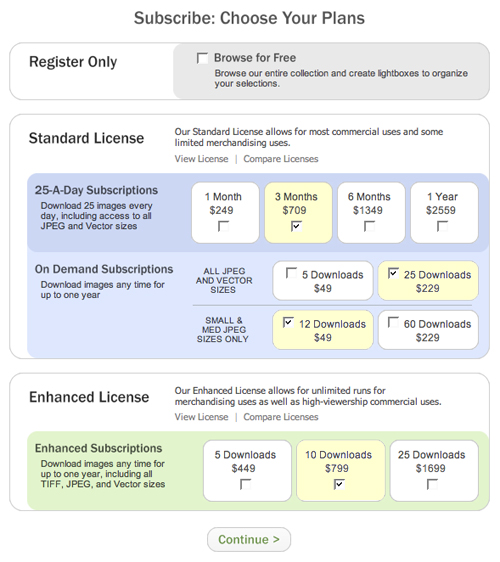 With the 25-A-Day plan, you're free to download up to 25 images a day for all of your design related projects. Thousands of subscribers from all over the world already get everything they need through this plan alone.
However, you can now also subscribe to any of the On Demand plans to bail yourself out if you've already used up all of your 25 daily allotted downloads in any given day. In a sense, the On Demand plans are the perfect back up plan – and because the plan lasts for a year, you won't have to worry about your "backup" downloads expiring, as they'll be patiently waiting for whenever you need them.
But wait. A project assignment has just landed on your desk: Artwork for a CD cover that is going to have 300,000 copies printed. Good thing you also got yourself an Enhanced License! Now you can download images without worrying about limitations on the manufacturing runs or any other legal ramifications. And just like the On Demand plan, your Enhanced License allotted downloads are good to use anytime within a year.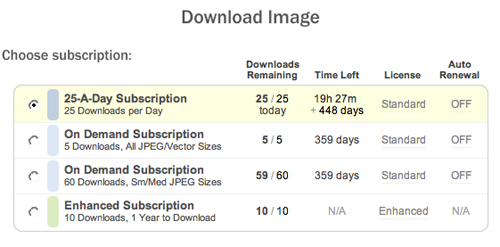 Once you're ready to download, you will be presented with the option of which plan you wish to use for the download, as illustrated here: The point is this: The On Demand subscription plans not only provide you with even more great options, they also strengthen the already existing subscription plan options. If you're in need of a vast selection of top quality, royalty-free images, what could be better? It's now easier than ever to meet all your image needs at Shutterstock.
If you're interested in a custom or multi-user account, please contact us directly at 1-866-663-3954 for pricing and other information.