Have an upcoming gig shooting a wedding? Download and install these five FREE Lightroom presets before your next wedding photography shoot.
If you have a decent camera and your family and friends know you like photography, you have about a 99.999% chance of being asked to photograph a wedding in your life. It's simply a fact of photographer's life. And you may be able to earn money to do it.
Wedding photography is a special genre though; one that requires certain looks and vibes applied in post-production. This gives the photos a deeper and more artistic style, and people want their wedding photos to be a few tics above mere "snapshots."
Lightroom presets, therefore, become perhaps more important for a job such as this. You'll be snapping more shots per hour on a wedding day than probably any other setting, outside a sporting event, since you simply cannot miss a moment. This can mean hundreds, maybe a thousand, shots.
That's where we come in. Here are five Lightroom presets to use on your wedding photos. These five distinct precooked styles are based on popular, useful, looks to apply to wedding photography. Don't be afraid to use these as a base either. By no means will presets work out of the box for every shot.
Download 5 FREE Lightroom Wedding Photography Presets
Click the button below to download five FREE presets to load into Lightroom CC — or legacy versions Lightroom Classic. These give five distinct styles to your wedding and reception photos.
Along with these custom presets, here are some instructions on how to load them. Below are some before-and-after shots, and some tips for making your own adjustments.
These presets are free to use in any personal or commercial projects. By downloading, you agree not to redistribute these assets.
---
Vintage
Let's start way back with a filmy, aged look. Let's not, however, add any fake aging or too much shift in color; to remain accurate, we stick with a healthy dose of warmth. Not too much, but enough to feel like a vintage portrait.
In the Vintage preset, Shadows are lifted, a touch of grain is added, and the saturation of intense colors is brought down a bit. This will give a comfortable tone enhancing and softening memories of a very special moment.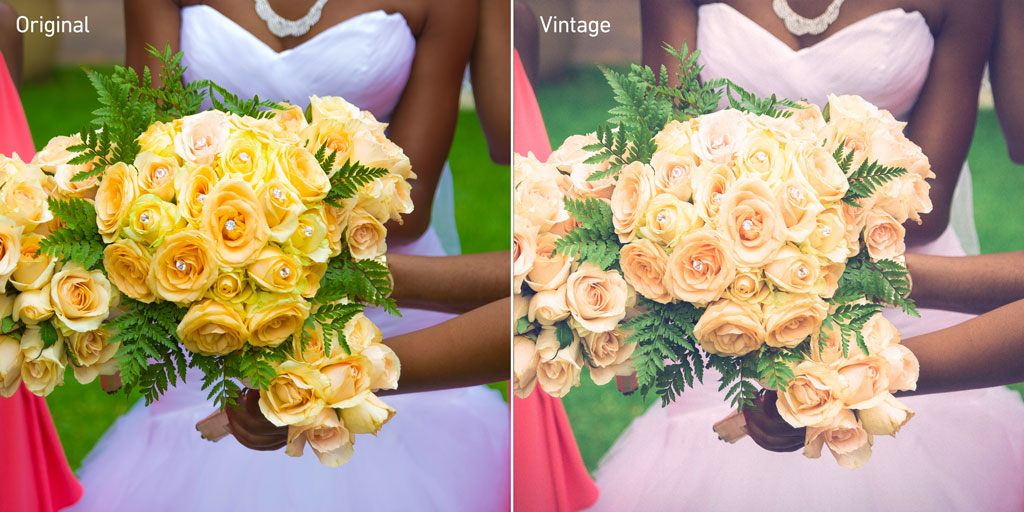 Image via Qualivity
---
Natural Enhancement
This Natural Enhancement preset will gently shift and boost the tones associated with the range of colors skin tones reside within. No certain range of skin tones are singled out or omitted. The settings here will go across the board to enhance any people in a photograph, working with what you already have to add more life to it. Feel free to adjust the Temperature and Tint to fine-tune it.
Image via petereleven
---
Classic Monochrome
Turn your actions scenes into beautiful monochrome images. The Classic Monochrome preset will add the timeless look of stark black and white photography, arresting the action shots of your wedding shoot in a crisp, tonally rich elegance.
We didn't just remove the color information. Here, shadows are deepened, highlights are softened, and mid-tones are brought up to ensure a broad, deep range of tones are present.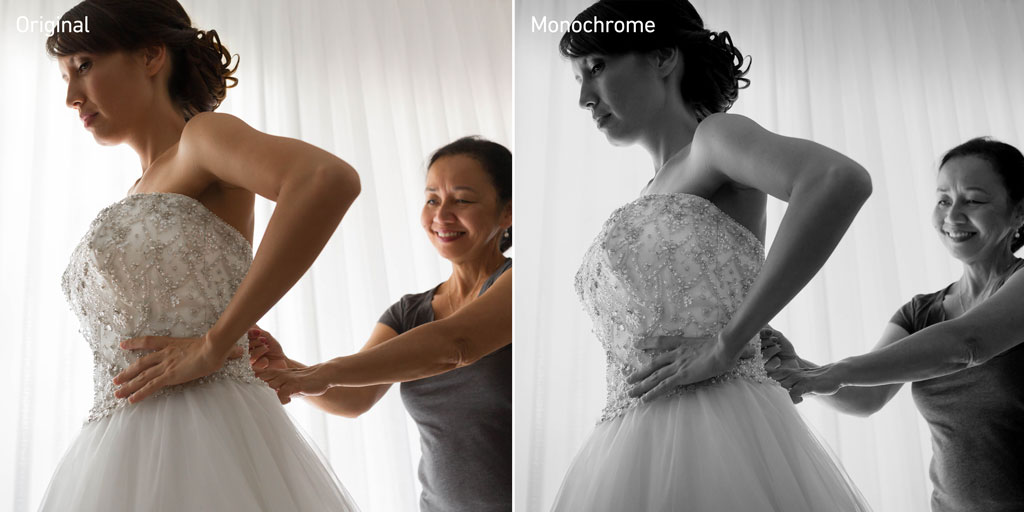 Image via christinarosepix
---
Fairytale Haze
Not all your wedding photographs have to be semi-realistic, representational snapshots. Oh no. Check out the Fairytale Haze preset. This is a mix of settings to give a dreamy, hazy, gauzy look to certain photos. Create image that have a fairytale style and make your subjects glow.
Play with the Clarity control, under Effects in the Edit menu, in order to reduce or add the dreamy haze effect. Then change Tint and Temperature to adjust the warmth or coolness.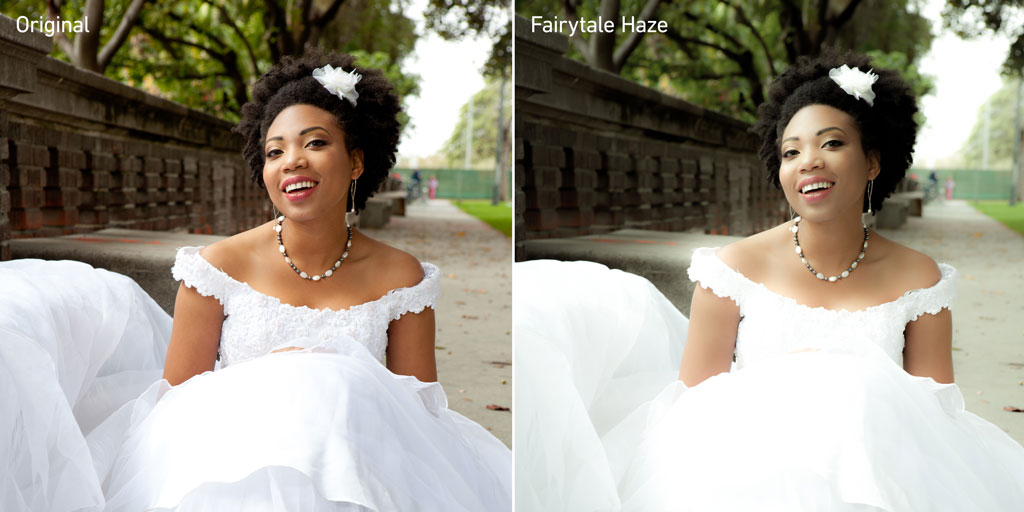 Image via Deborah Kolb
---
Vibrant Reception
The Vibrant Reception preset can be used on anything, but it is meant to add punch to your party shots. Often taken in challenging light environments, the reception photos of your shoot often need a little help turning action shots into frameable photos.
This will get you there, or close enough to only need small, specific adjustments. We added some depth to highlights and shadows, as well as a subtle vignette to enhance the subject in the frame. Subtle shifts in key areas of color information give back some life when flash or non-ideal lighting is present.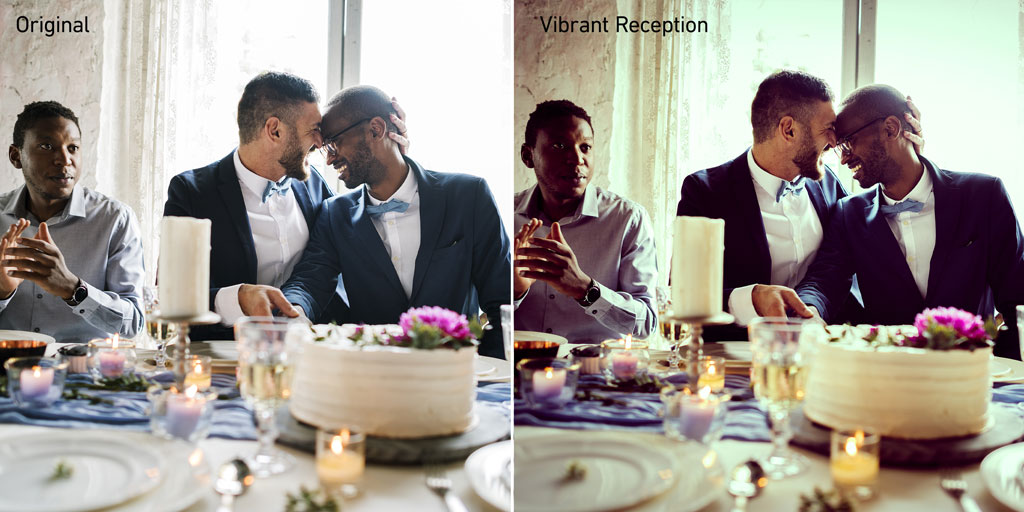 Image via Rawpixel.com
---
Cover image: background via mirtmirt, portrait via petereleven