While 2020 was by no means a lucky year, our 2021 Color Trend report points to a sunnier outlook for the year ahead with the majestic Fortuna Gold.
Named after the Roman goddess of good fortune, this warm and comforting color appears in dappled sunlight at golden hour or in precious antique jewelry. Balancing impact and sophistication, Fortuna Gold can be used in both its metallic and matte incarnations to bring depth and drama to designs.
In our annual Color Trends report, we take an in-depth look at search data to find the colors that designers, photographers, and tastemakers are downloading and using in their work. We analyze the HEX code data in each pixel, and from here identify the color trends set to make waves in the design world. In 2021, Fortuna Gold takes its place alongside soothing Set Sail Champagne and earthy Tidewater Green.
Scroll down for ten on-trend color palettes that bring out the best of Fortuna Gold. Plus, discover more about the fascinating history and symbology behind this luckiest of colors.
---
Fortuna Gold
This deep, enveloping color blends the warmth of orange with the lure of gold. Fortuna Gold is an antique gold hue with undertones of brown, olive, and yellow. Fortuna Gold avoids the brash and flash of pure gold, instead representing a more historic interpretation of the precious metal. The color of centuries-old coins, rediscovered gold statuettes, and precious talismans, this is the gold of the ancient world, intertwined with fortune and divinity.
The ancients revered gold for its rarity and association with the sun. Its reappearance in shimmering fields of golden wheat at harvest time further enhanced the sanctity of this color. The theatricality of gold metal and the softness of natural elements featuring this color, such as sunlight and corn, combine to give Fortuna Gold its complex personality.
Combining this deep gold with other vivid colors maximizes its intensity. However, with earthier tints like terracotta, ochre, or Set Sail Champagne, Fortuna Gold takes on a more harmonious supporting role.
Versatile and always beautiful, Fortuna Gold can be either a neutral or accent color depending on the scheme.
---
The Symbology and History of Fortuna Gold
Fortuna Gold is an old gold color, closer to olive-brown or orange than pure yellow. As a larger color category, gold has a fascinating and sometimes conflicted history. Its ancient associations with rarity and divinity eventually evolved over time into its modern-day affiliation with wealth and excess.
Historically, gold hues were the markers of religion and royalty, symbolic of both celestial light and the monarch's divine right to rule. In Buddhism, gold is a particularly sacred color. It is the tint of monks' robes and the aura of enlightened individuals. Meanwhile, in Ancient Egypt gold was known as the "flesh of the gods," and artisans adorned sacred murals and statues in gold leaf.
Centuries later, gold became the favored color of the symbolist artist Gustav Klimt, who adorned his "Golden Phase" paintings with delicate gold leaves to achieve an ethereal effect. His reinterpretation of gold in art anticipated the wide popularity of gold colors in decorative arts during the Art Nouveau and Art Deco periods.
Today the color of pure gold is synonymous with wealth, extravagance, and ambition. From Buddhist monks to Trump Tower, gold's cultural symbology has certainly taken interesting twists and turns over the centuries.
Fortuna Gold, with a sophisticated depth that imitates the look of patinated antique jewelry, connects with the symbology of gold as it was millennia ago, rather than the brash yellow-gold of contemporary costume jewelry or counterfeit watches.
Use this color to invest brands with a sense of establishment and history, whatever their age. Or, give rooms a warming, cocooning atmosphere that imitates the feel of traditional hotels and clubs. What's more, a tint of Fortuna Gold overlaid across photos gives an instant Golden Hour effect, flattering complexions and making images feel instantly more serene and relaxed.
Read on to discover how to use Fortuna Gold in your projects, from the colors that complement it to on-trend palettes to pin and use now.
---
Colors to Pair with Fortuna Gold
An extremely versatile color, Fortuna Gold can be either a dramatic accent alongside intense colors, or as a soothing neutral in place of brown or gray. Its amber and olive undertones bring a warmth and earthiness to schemes, making it a natural complement to earth-toned palettes.
In its non-metallic form, Fortuna Gold sits alongside orange and yellow on the color wheel. This allows it to complement sharper, cooler hues like cerulean and azure blue, while also creating a soothing scheme alongside fellow warm, earth-based colors like cafe au lait and sienna.
For a soothing and minimal palette with a dash of glamor, pair Fortuna Gold with its trending companion color, Set Sail Champagne.
Complementary Color
The complementary color of gold, meaning its opposite on a color wheel, is blue. Darker golds will also complement purple-blue, creating a suitably regal palette. Fortuna Gold's direct complement is cerulean blue, an intense shade of deep blue historically among some of the rarest and most expensive pigments in the world.
For an alternative but equally complementary pairing, look towards blue-greens like our other major color trend Tidewater Green, or rich teal shades. Greener blues give Fortuna Gold a festive air, while a teal blue gives a nod to mid-century modern color palettes.
Analogous Colors
Orange and yellow sit on either side of Fortuna Gold on the color wheel. Use this trio of warm colors in your designs to create a fiery palette evocative of sunlight and desert heat.
Triadic Colors
Set in a triangular formation on the color wheel, red and blue sit equidistantly across from Fortuna Gold. You will find this formal triadic scheme in religious and patriotic color language, from the robes worn by members of the Catholic church to the colors of national flags and football teams.
---
Fortuna Gold: 10 Color Palettes to Inspire
Rich and dazzling as well as soothing and mellow, Fortuna Gold should really be seen as a dramatic neutral. It's versatile enough to pair successfully with almost any other color, while also theatrical enough to lift a scheme from unremarkable to exceptional in an instant.
To unleash its theatrical potential, pair Fortuna Gold with black or midnight blue for Art Deco-style invitations. Or, instead combine it with black and white in interior schemes for luxurious glamor. When teamed with crimson red or forest green, it takes on a sophisticated festive personality, while deep berry purples lend it an autumnal feel. Jewel-like colors unleash its intensity, which is perfect for attention-grabbing digital projects. Meanwhile earth tones lend it a mystical, gentle beauty that suits fashion and interior design.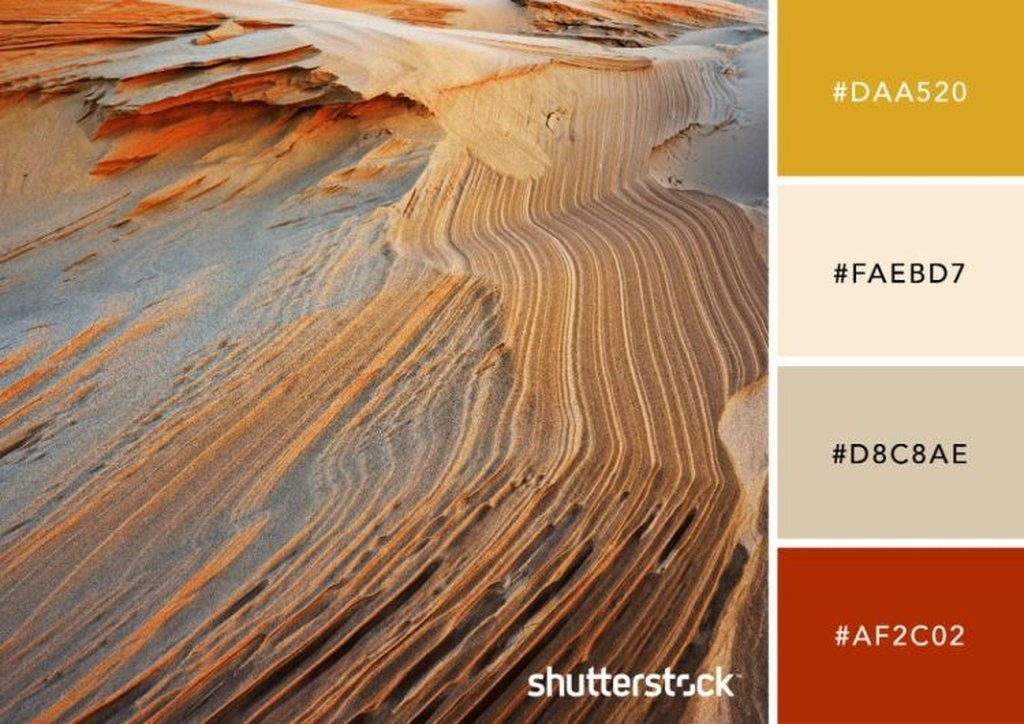 After a year lacking in luck, it's finally time to flip the coin. Fortuna Gold might be the color token that turns fortunes around, creating breath-taking designs in the process. So, conjure up felicity and fate in your projects with ten trending palette ideas, and share them for future inspiration.
Palette #1: Study Door
This somber, rich palette is inspired by the studious atmosphere of an old library. Fortuna Gold pairs with both Tidewater Green and down-to-earth gray and brown for a grounding, masculine scheme.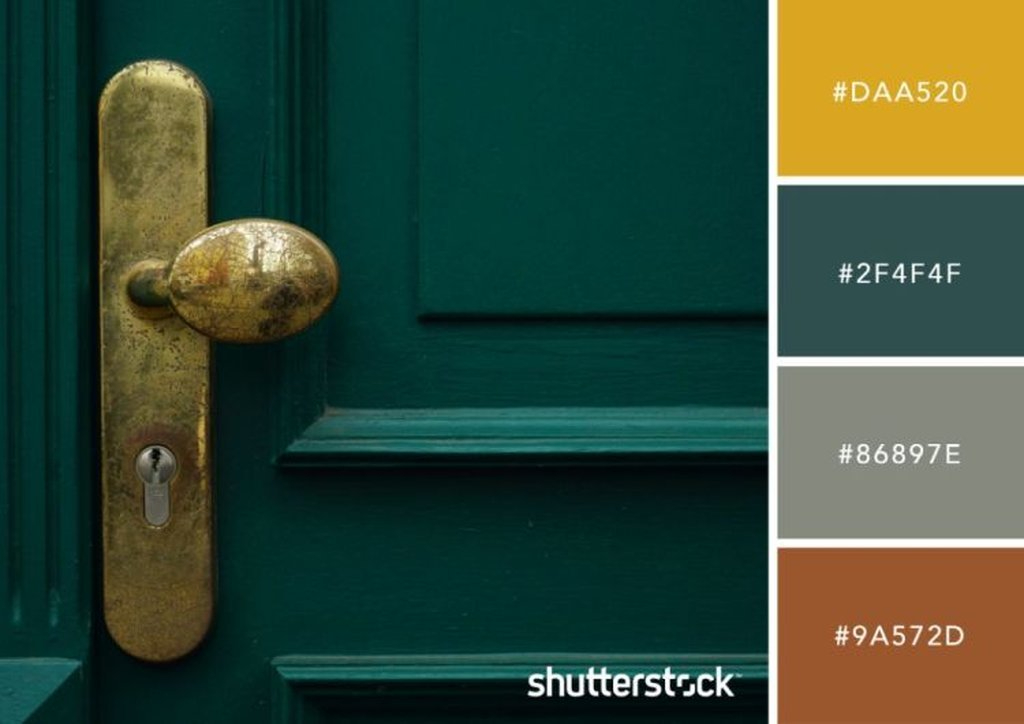 Palette #2: Blush Hotel
Rosy pink and forest green really bring out the best in each other. However, Fortuna Gold takes them to new levels of luxury with the addition of steel black. Try this one out on interior schemes or high-end packaging for instant aspiration.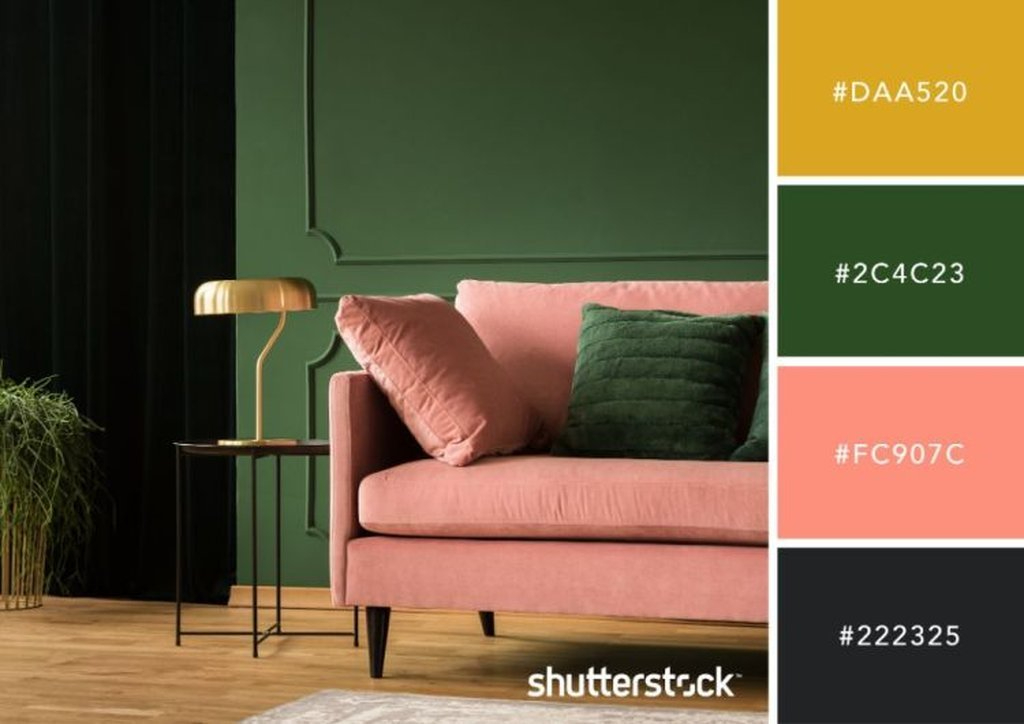 Palette #3: Peacock Gold
Nature always provides the best color scheme inspiration. Inspired by the vivid turquoise and teal blue of peacock feathers, here Fortuna Gold teams up with a range of complementary blue-green colors that bring out its intensity.
Palette #4: Mulberry Blues
Maroon and gold has a retro flavor, but teamed with cobalt blue and ivory, this school-inspired scheme feels fresh and new.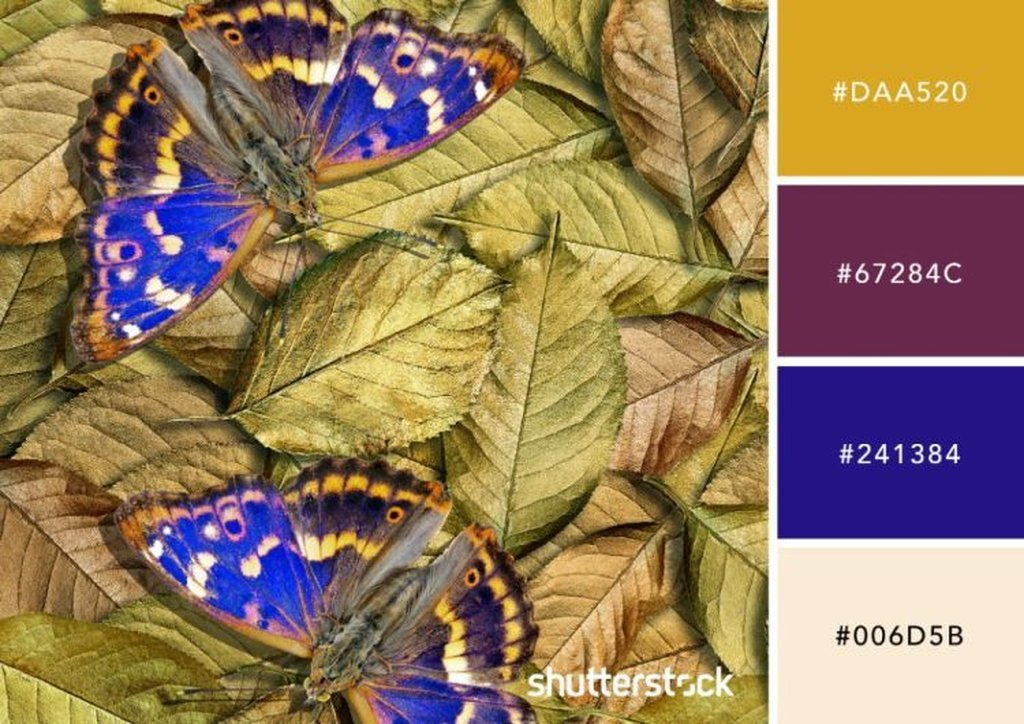 Palette #5: Lucky Dune
This simple, tonal palette combines soft sandy neutrals with rich ochre red and Fortuna Gold for a scheme that's straight from dramatic desert dunes.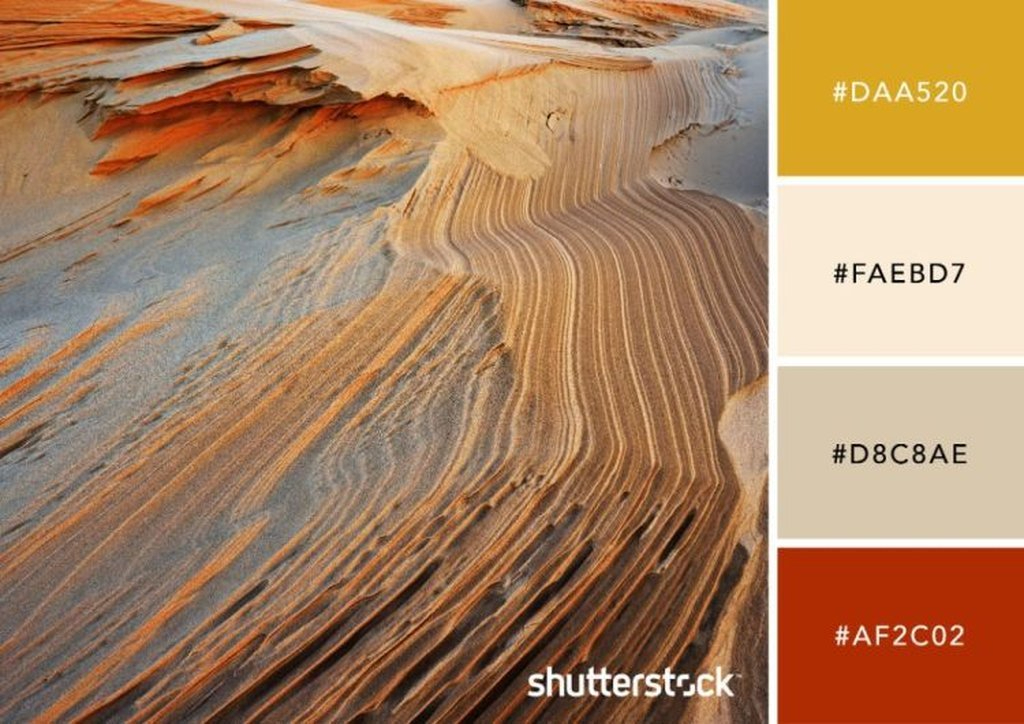 Palette #6: Berry Gold
An autumnal color scheme that brings a warming, cozy feel to a design, Fortuna Gold here provides a light accent. Meanwhile, Smoky gray makes the scheme feel contemporary rather than festive.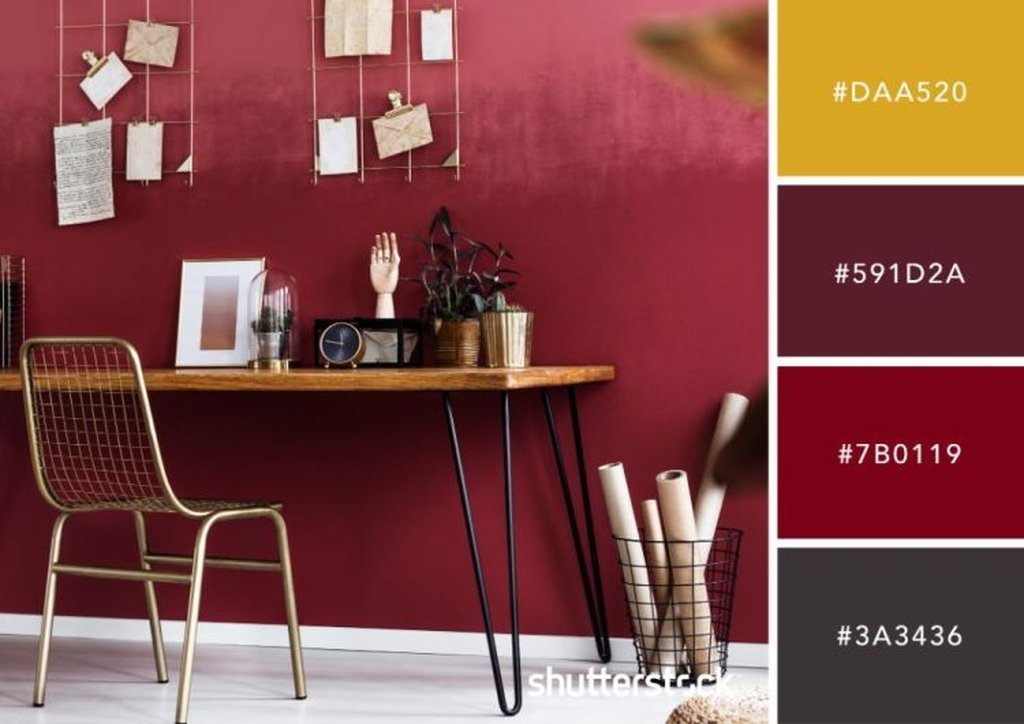 Palette #7: Fire and Ice
This contrasting, warm-cool palette uses complementary orange and blue as the anchoring tones for the scheme. This impactful, eye-catching palette is perfect for social media, and it's also a great choice for branding projects.
Palette #8: Masked Ball
There's no color combination as dramatically luxurious as black, white, and gold. Beloved by the fashion world, the warm glow of Fortuna Gold enlivens this monochrome scheme. Throw a pale dove gray into the mix in order to soften the combination.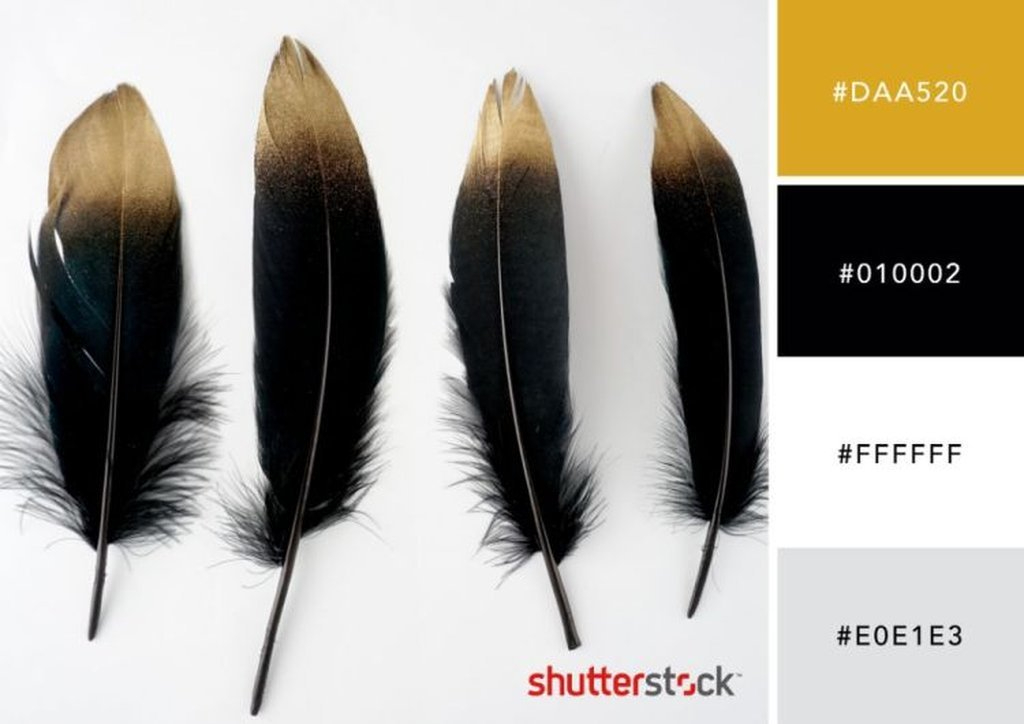 Palette #9: Golden Hour
Fortuna Gold mimics the amber light seen during the golden hour—the hour just before sunset during which light is at its warmest. This palette pays tribute to the time when darkness begins to fall as the sun gradually disappears over the edge of the horizon, combining Fortuna Gold with burnt orange, inky blue, and dark teal green.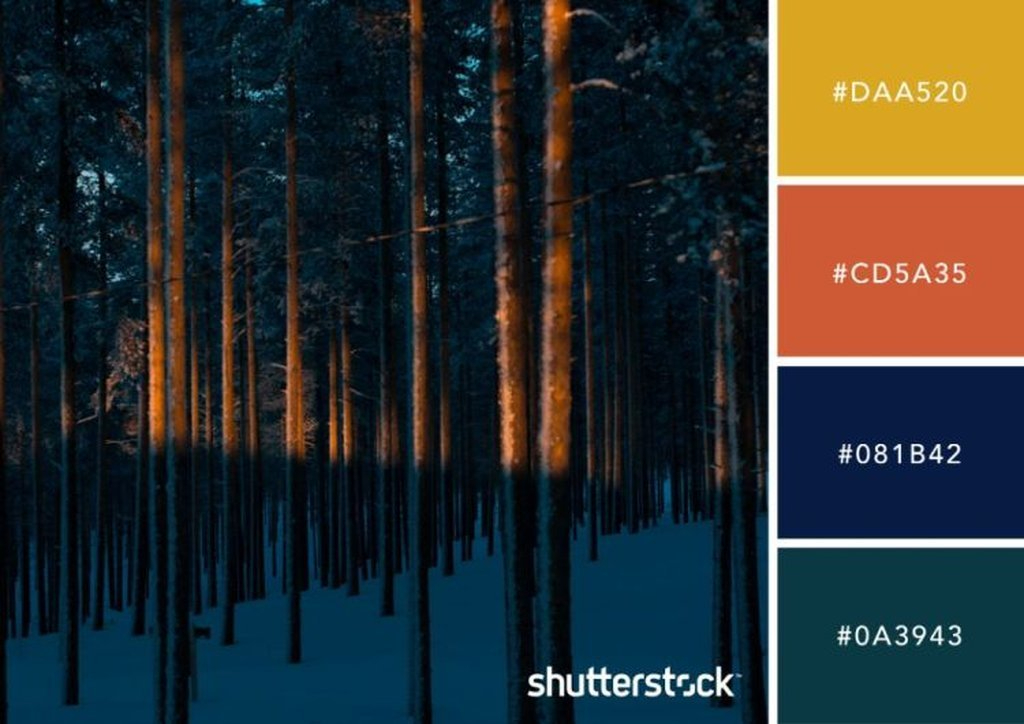 Palette #10: Mixed Metals
After a truly turbulent year, color can play a small part in creating a celebratory atmosphere. With parties aplenty no doubt around the corner, mix your metals for an ultra-festive scheme.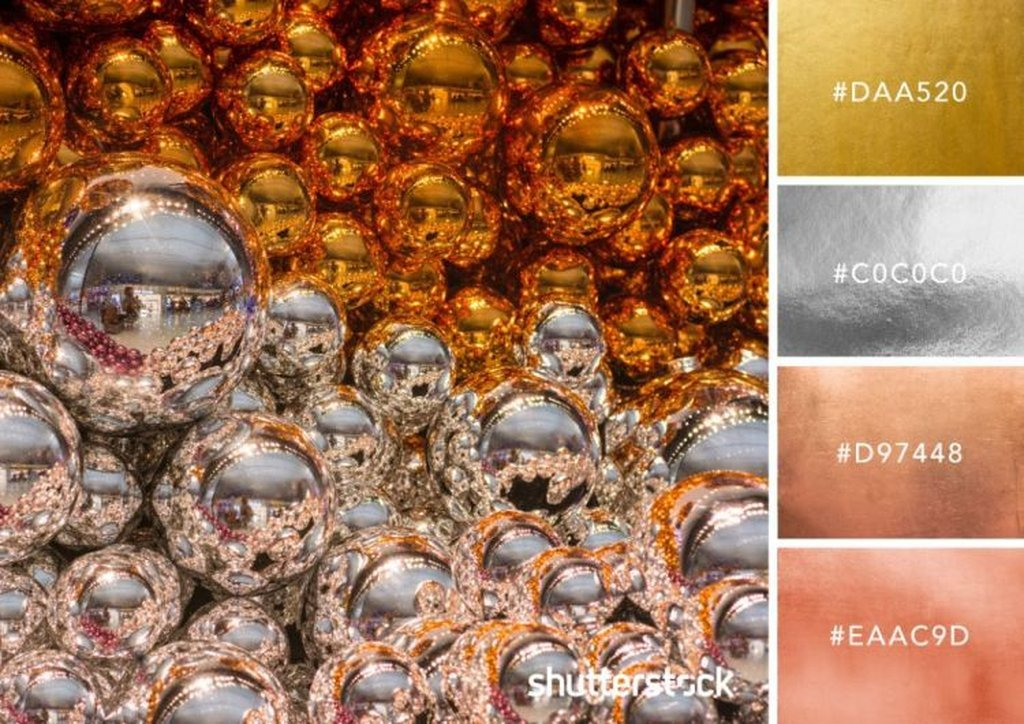 ---
Color is one of the quickest and most transformative techniques for giving your projects personality and impact. So, from the optimal color to use on a landing page to tips on how photographers can use color to brand their portfolios, don't miss these handy guides on color from our contributors:
Cover image by Ninell.