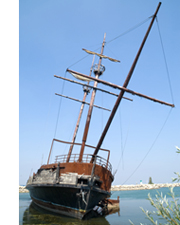 Story Behind the Photo is an ongoing series that highlights a unique story behind a photo or photos created by a Shutterstock submitter. This month's featured story is a collection of anecdotes from a quartet of Shutterstock submitters, reminding us all that every image has a story behind it. Special thanks to submitters Sue Smith, Steven Paul Pepper, Gary Paul Lewis, and Holly Kuchera.Six or seven years ago, I was driving through Ontario and caught a glimpse of this ship. I made a note of the next exit, and on my way home, pulled over to get a better view. I took some photos (on film) and talked to a boy who was walking by. He told me the ship was "used for movies."
Each time I drove that road, I looked for the ship.
A couple of years later, the ship was burned. I stopped at a gas station and was told the fire was intentionally set. I was incredibly sad that anyone could do that to such a beautiful ship. I snapped a few pictures and shed a few tears.
After that, I found a new route through Ontario and didn't see the ship for a few years. Last summer, I knew I would be making my last trip through Ontario for a long time. I had to see the ship one last time.
It was still there! I spent some extra time and took a lot of photos. Then I stopped at a gas station to get something to drink. While there, I started talking to a local man. He told me that no one knows who the ship belonged to. One day it simply appeared, and it had been there ever since.
View Sue Smith's gallery here.

This photo was taken at a restaurant we enjoy where they have flamenco dancers (obviously). At the end of their routine, the dancers pull up people from the audience and make them flamenco dance — basically, a way of making you feel silly!
In this photo, I was actually on the other side of the dancer as she was spinning around. My girlfriend snapped this shot with my camera. I cloned myself out of the picture and extended the dancer's finger a bit and presto! There she is… one of my Shutterstock bestsellers!
View Steven Paul Pepper's gallery here.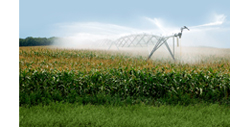 I was driving home from a webcast in Traverse City, Michigan. Along the two-lane road was a series of cornfields and this particular field had a sprinkler running. I'm not really much of a country guy, so I figured I could just walk over and snap a shot between it cycling from one side to the other, the way a lawn sprinkler does.
Wrong.
I got about fifteen feet away, and I realized the sprinkler wasn't hitting any kind of trip switch to make it go the other way. I started backing up, but it was too late. I covered the camera just in time as I was doused with a good five gallons of ice-cold water.
It was quite refreshing, to say the least.
View Gary Paul Lewis's gallery here.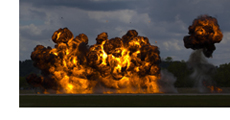 A friend and I were at an annual airshow near his parents' home. During part of the show they perform a World War II reenactment, where men in WWII uniforms crawl out onto the runways while bunches of Zeroes and AT6 Texans (WWII-era fighter planes) do fly-bys. Meanwhile, the crew on the far side of the runways had set up pyrotechnics to simulate bombing runs done by the Zeroes.
In this image, I was lucky enough to be pointing my camera in the right direction when they set the pyrotechnics off. The funny part is that this was my first time attending the airshow and didn't know they would be doing pyrotechnics. Yes, I nearly wet myself at the first blast.
Unfortunately, the neighbors of the airport have since complained about the noise and it appears they won't be doing the airshow any longer.
View Holly Kuchera's gallery here.