Writing up engaging emails, newsletters, and promotions doesn't have to be hard. Try this simple guide for creating emails your customers can't wait to open.
Are you hearing crickets after you send an email for your business?
It happens to all of us, but with the right strategies we can improve our open rates and get our subscribers to read and take action on the emails we send. Do the following five emails right, and you're golden!
---
1. Welcome Emails
Welcome emails are the staple of any email campaign, but they are often underutilized. These emails present an incredible opportunity to make a stellar first impression and inspire your subscribers to take action, right off the bat. What's more, they generally get the highest clickthrough rates of all emails, so it's an opportunity you don't want to miss.
Use these tips to amp up the quality and effectiveness of your welcome emails:
Be friendly, clear, and concise. No one wants to read a novel!
Include some simple statements about your company and product.
Provide simple steps users can take to start using your product or service right away.
Consider giving new users a gift, such as a discount on their next purchase or some great content you've put together.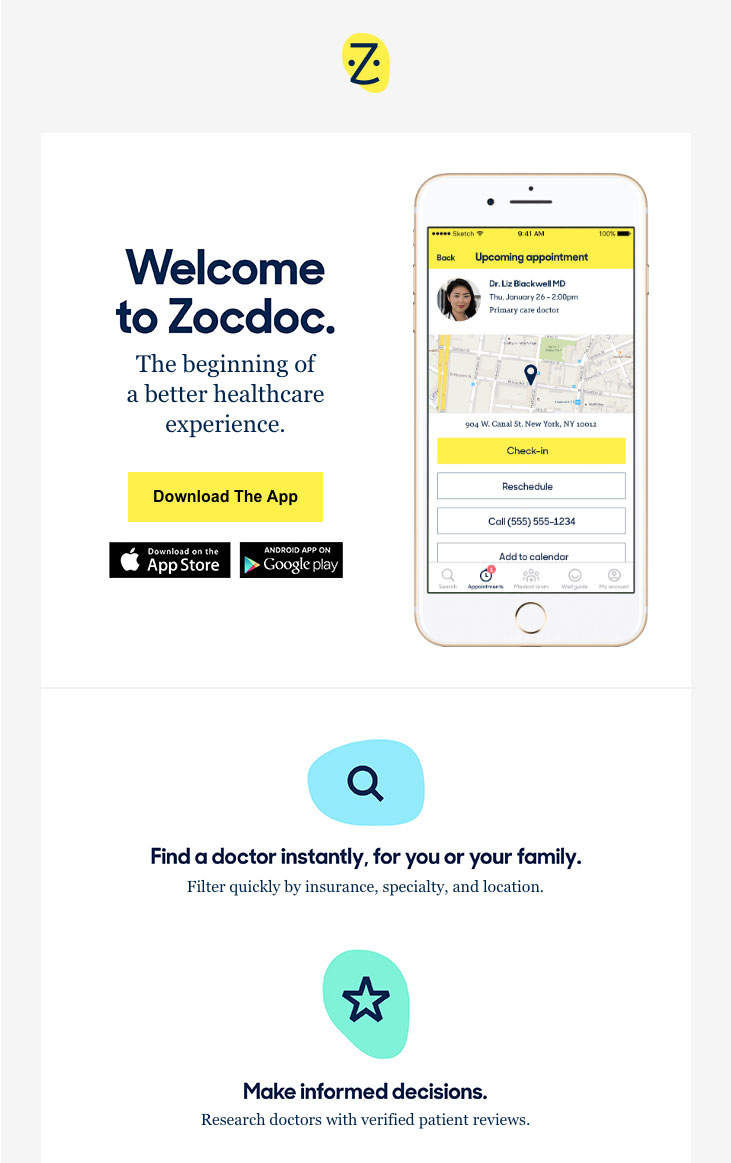 Zocdoc's welcome email is a great example of friendly, clear, and engaging content. Colorful icons illustrate the purpose and values of the app, and a CTA encourages new users to download the app, as well as a final CTA to "Book An Appointment." Overall, the design is clean and simple, encouraging new users to interact without being overpowering.
---
2. Promotional Emails
Promotional emails run the gamut. You've got sales alert emails, cross-promotional emails – even FOMO (Fear of Missing Out) emails. Then there are new product emails, re-order emails, and personalized emails, such as "Top Picks for You."
Promoting your business is essential for driving revenue, and as long as you can do it in a way that demonstrates the benefits to the customer, promotional emails are actually welcomed. Here are some tips for creating effective promotional emails:
Make it all about the customer and what they'll get out of the promo.
Add a sense of urgency with phrases like: Last Chance!, Hurry!, and One-Day Sale!
Personalization is key – use past purchases to inform the email content.
Keep it short and sweet.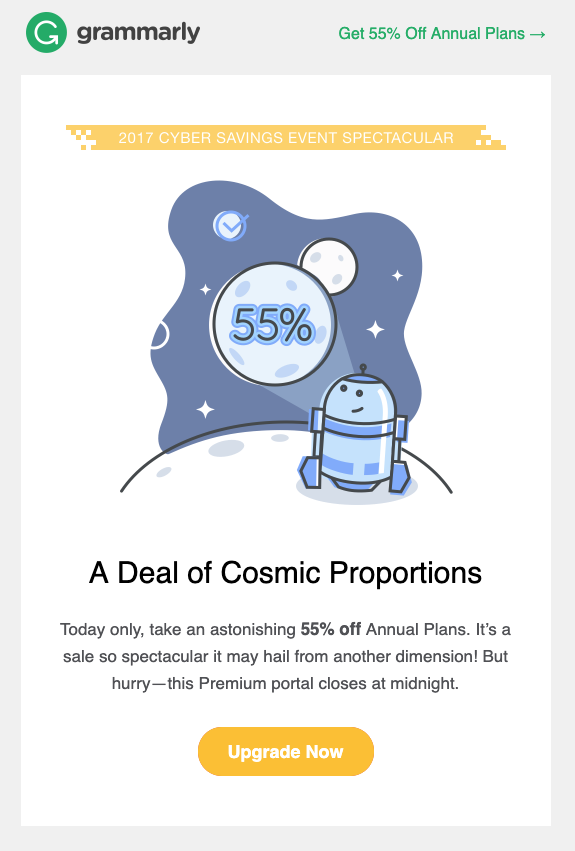 This email by Grammarly shows how playful copy, a sense of urgency, and customer-mindedness all make for a powerful promotional email. Even with minimal text and a simple graphic, this email conveys the offer effectively, creating excitement for users looking to upgrade.
---
3. Re-Engagement Emails
When a customer hasn't been opening or engaging with your emails in a long time, it's time for re-engagement tactics. This type of email is meant to either get users engaging with your emails again — or to remove inactive users from your list.
Why would you want to get them off your list? An engaged list is where the money's at. Someone who never reads or clicks on your emails isn't going to buy from you; meanwhile, you're paying for their spot in your email marketing software. So, clean up your list and you'll have better response rates, while paying less in fees.
Use these tips to create your re-engagement emails:
Personalize copy to create a stronger connection.
Offer a simple way for your subscribers to stay on your list.
Explain the benefits of being one of your subscribers.
Persuade them with an offer.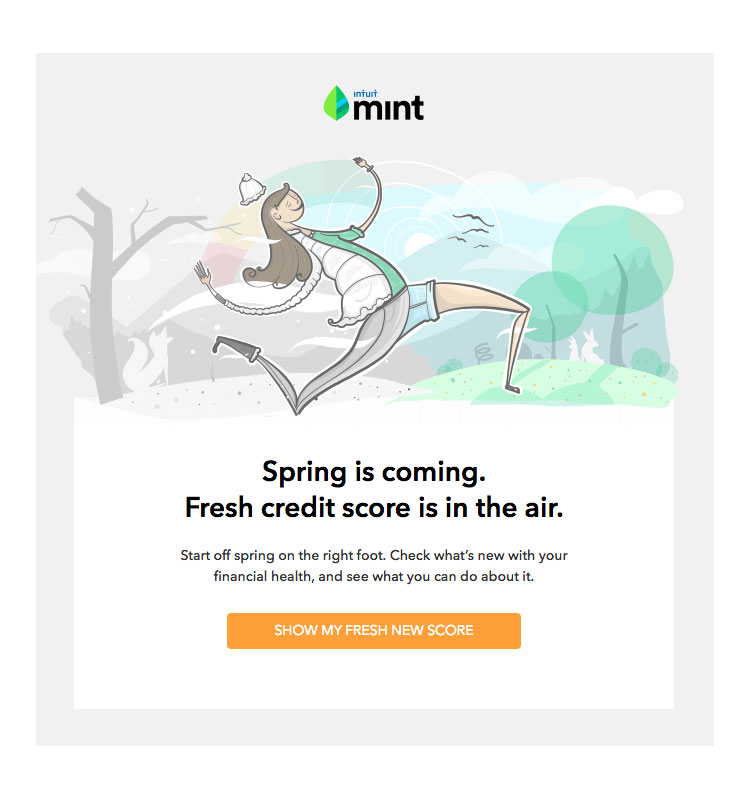 This simple re-engagement email from Mint encourages users to revisit the website with a compelling – and personalized – offer. By sharing content related to the users credit score, Mint effectively reaffirms the value of their services and makes it simple to dive back in.
---
4. Holiday and Seasonal Emails
Once you've sent on-boarding emails and a few discounts it can feel like there's nothing left. But the calendar is jam-packed with holidays, events, and seasons to inspire your emails. Use them to create thematic sends that entice your users and customers, whether you're sending holiday-season offers or highlighting your seasonal product lineup.
These are some of the most useful themes to explore:
Black Friday and Cyber Monday countdowns and personalized offers
New seasonal products
Fun holidays that relate to your brand, like National Donut Day, etc.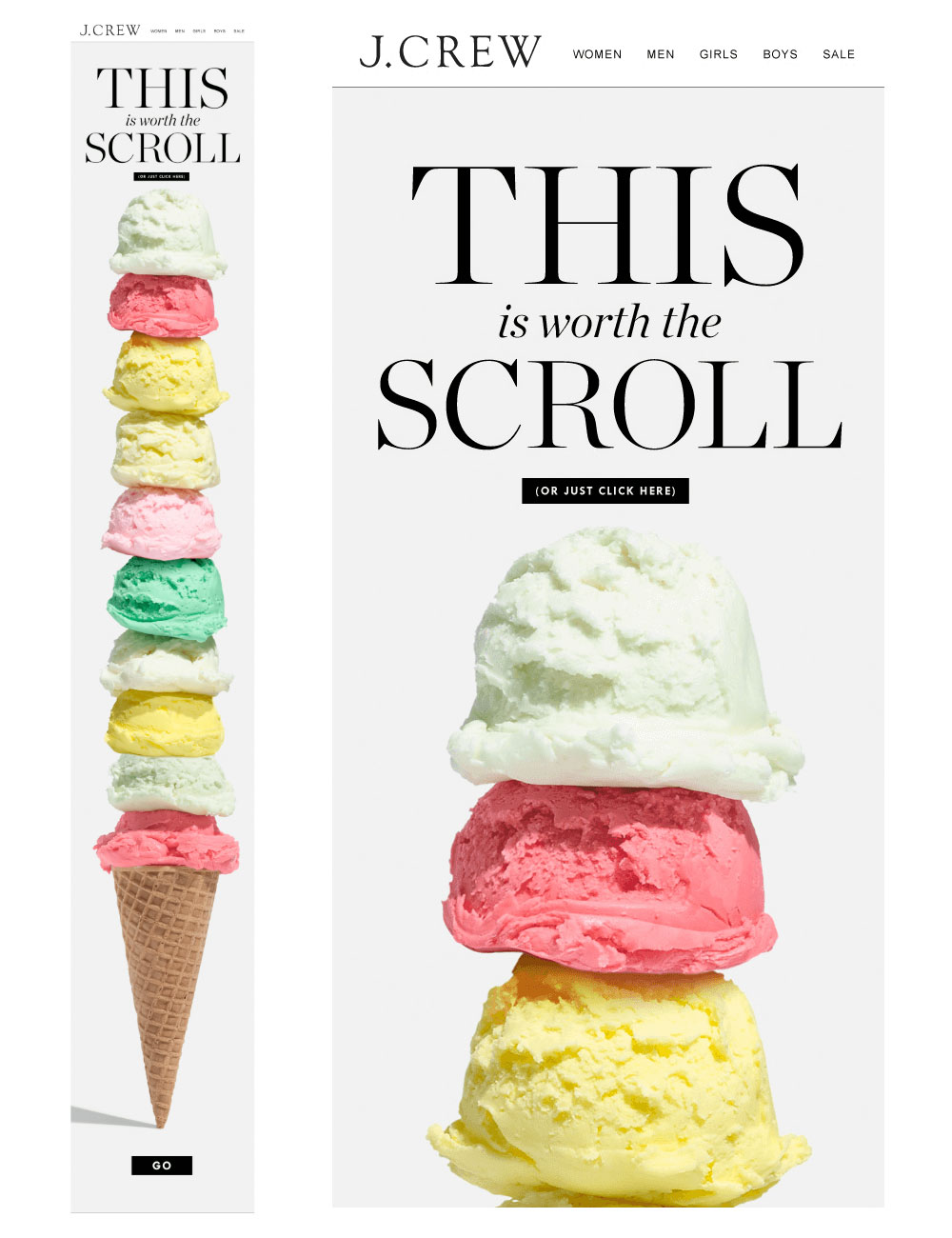 This enticing email from J.Crew has fun with the summer theme, and encourages users to do the same. In fact, users aren't even sure what they're clicking into, but the colorful stacked ice cream scoops are enough to get them to scroll. When your customers have a season or a holiday on the mind, take advantage with thematic content.
---
5. Content Emails
Often called newsletters, this type of email curates all the content your brand has released and packages it for your adoring fans. This format not only gets more eyes on your blog posts, videos, or social posts, but it also engages customers through storytelling, which helps them relate to and remember your brand.
You can create content emails in several different ways:
Round-up your top performing social posts of the week or month.
Share links and brief descriptions of your latest articles.
Offer free content as a gift, such as an e-book. You can provide this as a simple download, or you can require them to opt in to receive it.
A fun and clean design highlights the daily stories from GQ in this content newsletter email. Whether you send it daily, weekly, or even monthly, a content digest delivers something new to your customers, helping them engage and connect with your brand.
---
With these five emails, you are sure to engage your subscribers and, in turn, get some incredible results. No matter what email you're sending out, make sure it exudes personality. Being in business is all about being unique and expressing that uniqueness in the most authentic way possible.
Figure out what the personality of your brand is (if you haven't already), and bring that personality forward in all of your emails and communications. It will pay off big time!
---
Cover image via Alex_Murphy
Want to read more about how your business can get the most out of your email lists? Check out these articles: