Learn about the historical origins, symbology, and psychology of earth colors, and discover how to use these rich and friendly hues in your own projects.
With consumers increasingly prioritizing the environment and sustainability when they make purchases, designers are starting to look to earth colors and natural tones in packaging, web design, and advertising to entice conscientious customers.
A move towards earth, or Fall, colors is also apparent across interior and fashion design, with natural-inspired hues making for calm and grounded schemes.
Here, discover what earth colors are, how they originated, and how to use them effectively in your design projects.
Eager for more color inspiration? Discover a wide range of colors to use in your designs with our new color tool.
---
Where Do Earth Colors Sit on the Color Wheel?
Earth colors refer to a group or scheme of colors which represent the varied colors of ground, soil or natural minerals. As a group of colors, earth colors normally contain some brown, and can be used together to create a harmonious scheme.
On a traditional painter's color wheel, earth colors are often represented by some of the key pigments used by artists, such as yellow ochre, burnt umber, and burnt sienna. Many of these paints were sourced from the natural minerals found in the earth. As a result, many old oil paintings have an earthy color palette compared to later paintings, which often used synthetic, more brightly-colored pigments.
On contemporary color wheels earth colors are usually represented as darker tints of warm colors, such as orange, red, and yellow. However, while the addition of black creates a true tint (e.g. dark yellow), it is the addition of brown to red, yellow, or orange that gives this group of colors their earthy flavor.
Color wheel image by contributor Peter Hermes Furian.
Types of Earth Colors
Earth colors refer to any warm color that contains some brown pigment. Related to these are natural colors, which are inspired by other colors found in nature such as plants and animals. Earth and natural colors pair together beautifully, creating schemes that feel warm, autumnal, and soothing.
Below are a few widely recognized colors that fall into the earth group:
Ochre—a yellow-brown color named after the natural clay earth pigment. Ochre actually refers to the family of earth pigments that includes yellow ochre, red ochre, purple ochre, sienna (see below) and umber (see below also).
Umber—a dark red-brown color named after a pigment that contains iron oxide and manganese oxide. When exposed to heat, the color intensifies, creating burnt umber.
Sienna—a yellow-brown pigment that takes its name from the Italian city-state of Siena, where it was produced during the Renaissance. When heated, burnt sienna turns a reddish-brown color.
Burnt orange—a rich, warm brown-orange that's evocative of deserts and autumn leaves.
Discover how you can use a variety of earth and natural tones using the Shutterstock color tool. Explore palettes and images related to a range of earthy colors, including burnt orange, desert sand, and camel.
What Colors Go With Earth Tones?
Earth colors are one of the most satisfying color groups to work with because they come together so harmoniously. Because these colors are all present in nature they fit naturally with each other.
Brown-tinted earth colors look beautiful teamed together, but you can also introduce any nature-inspired color lifted from plants, animals, or the ocean. All nature colors make equally good companions.
Some nature-inspired colors that work well with the earth color group include:
Taupe—a brown-gray color that originates from the French word for mole.
Chamois—a brown-peach that mimics the color of the beautiful, supple tan leather made from the European mountain goat of the same name.
Earth colors are so versatile that they complement a huge range of colors. Teamed with other neutrals, such as black, white, or gray, they are effortlessly chic and elegant. Paired with bright primary colors, they have the ability to ground a scheme.
For a contrasting yet still surprisingly versatile earth scheme, look to neons or pastels. In these palettes, earth colors behave as neutral hues, while simultaneously calming and warming the contrasting color. Powdery pastel hues, such as lavender and pale blue, are particularly effective teamed with burnt orange, brown, or sienna.
The Meaning and Psychology of Earth Colors
Because earth tones are found in nature and are also subdued with the addition of brown, this group of colors are the opposite of synthetic, brash colors. As a result, they are extremely calming and grounding.
Sharing their hues with many expensive materials, such as leather, mahogany, and whiskey, earth colors are often associated with the finer things in life. When used in interior schemes, they give the viewer the impression of comforting, cocooning luxury.
Earth tones are instantly evocative of the natural world, which makes them a perfect fit for eco-friendly or rural brands, or businesses looking to highlight sustainable practice.
The History of Earth Colors
Pigments sourced from clay soil are among the earliest pigments used by humans. Unlike some minerals and metals that require extraction, pigments like ochre, umber, and sienna could be sourced easily from the surface or from exposed earth strata.
Ochre was used by prehistoric peoples as early as 75,000 years ago. Pieces of ochre engraved with abstract designs were found at the Blombos Cave archaeological site in South Africa, dated to this period. Variations of ochre were also used to create art in Australia, Mesopotamia, and Ancient Egypt.
During the Renaissance period, earth pigments were extracted in large quantities in the city-states of Italy and used in the creation of paintings and frescoes. Umber takes its name from terra d'ombra, or "earth of Umbria." Meanwhile, sienna is named after the city that popularized the use of burnt sienna in its artistic output.
In the late 18th century, the French scientist Jean-Étienne Astier developed an industrial process for creating ochre pigment. Inspired by the vivid red and yellow cliffs surrounding his hometown of Roussillon, Provence, he invented a process to manufacture the pigment on a large scale. Rousillon became renowned for the quality of the ochre pigment, which was exported widely and used in art and house paints.
In the aftermath of the Vietnam War, American consumers turned to earth tones in home decoration and fashion to mark a return to peace and calm. The immense popularity of earth colors during this decade was also spurred on by the establishment of the first Earth Day on April 22, 1970.
Today, designers are revisiting the earth palettes of the 1970s in fashion and interior design. Perhaps in reaction to the ultra-bright, synthetic colors often used in digital technology, as well as renewed interest in the impact of climate change on environmental sustainability, earth colors are experiencing a long-overdue revival.
How to Design with Earth Colors
In interior schemes, earth tones can be incredibly calming, making them excellent color choices for relaxing spaces such as living rooms and bedrooms. The contemporary take on earth colors might lift influences from the 1970s, but the desired effect is more eco-chic than retro.
Because earth colors are more soothing than stimulating, avoid using too many earth colors in areas that require energetic activity, such as studies and offices.
Print and packaging designers should look to earth colors when creating schemes for eco brands, or for businesses relating to the food, wellness, or farming industries.
This brand identity designed by Nancy Couta for food and wellness blog For My Love of Lemon combines earth tones with citrus and green colors for a well-rounded scheme that perfectly suits a health brand.
This website design for British adventurer and TV personality Bear Gyrlls uses a subtle dose of earthy ochre color to give the whole site a nature-focused mood.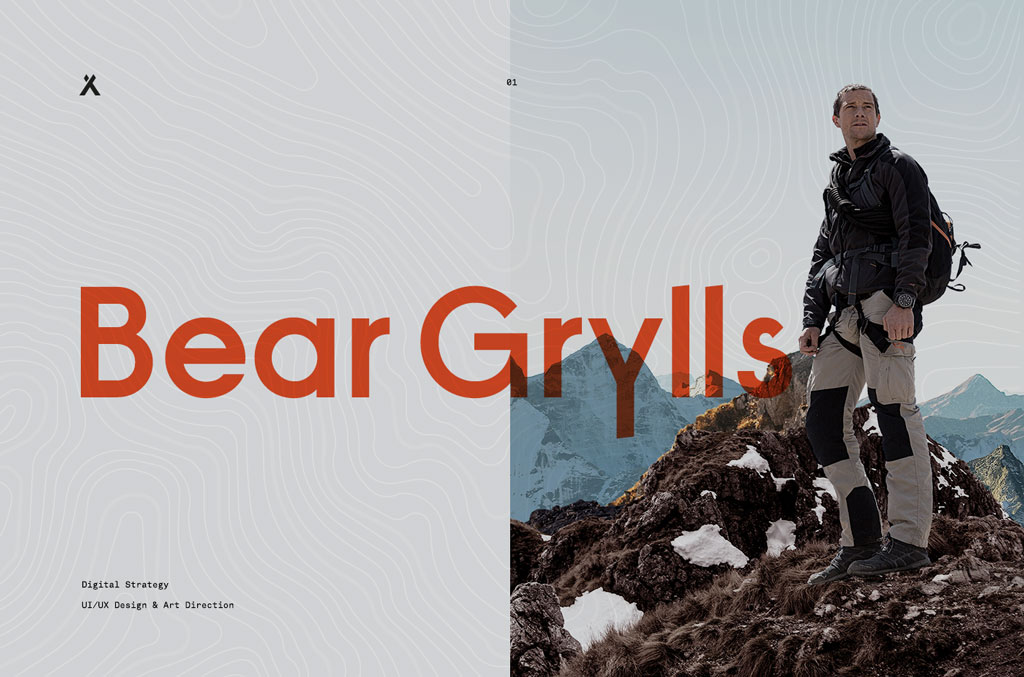 Palette 1: Fall Blues
This autumnal palette uses burnt orange and pale hazelnut as earthy tones to complement deep navy blue and pale gray-blue.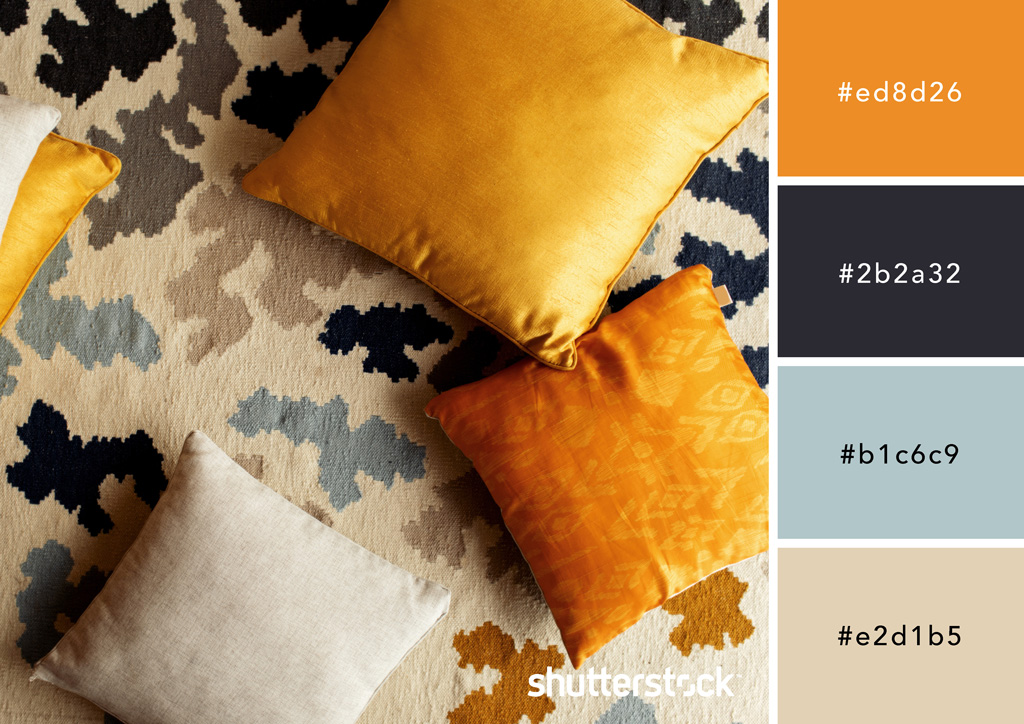 Palette 2: Bee Eater Buddies
Inspired by the vibrant rusty colors of chestnut-headed bee eaters, this scheme is a vibrant and tropical take on earth colors. Rich ochre is teamed with pale pink, yellow green, and deep teal for a palette that would work beautifully for a range of design projects.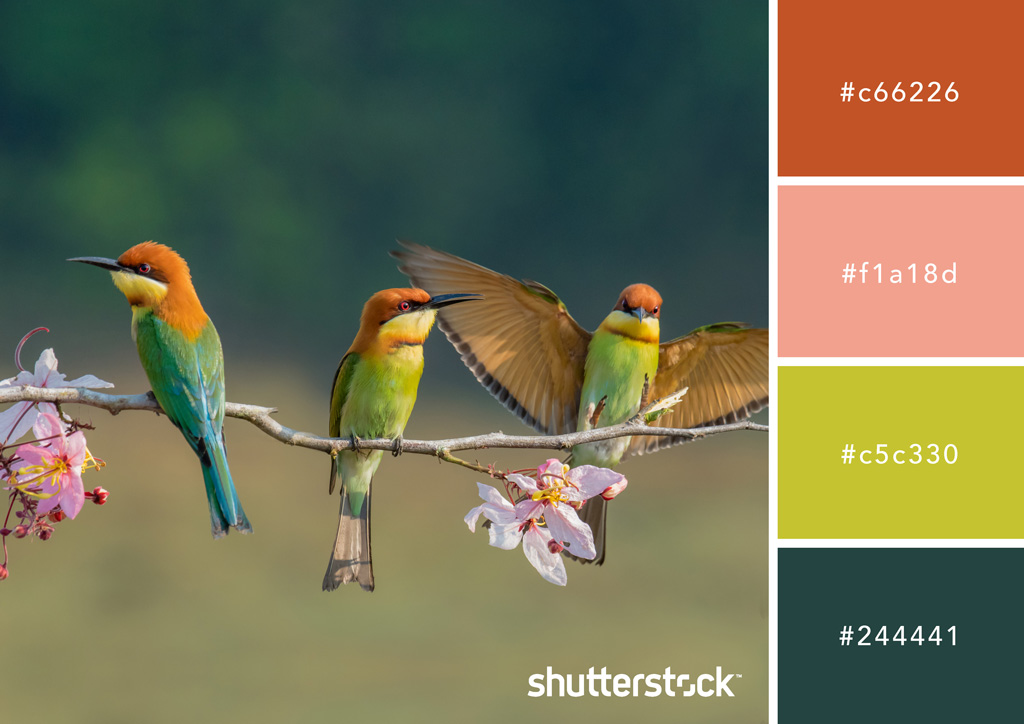 Palette 3: 1970s Spice
With Seventies-inspired style firmly back on the fashion agenda, this palette celebrates the harmonious and ultra-luxe combination of related earth tones of golden orange, burnt orange, cayenne, and ochre.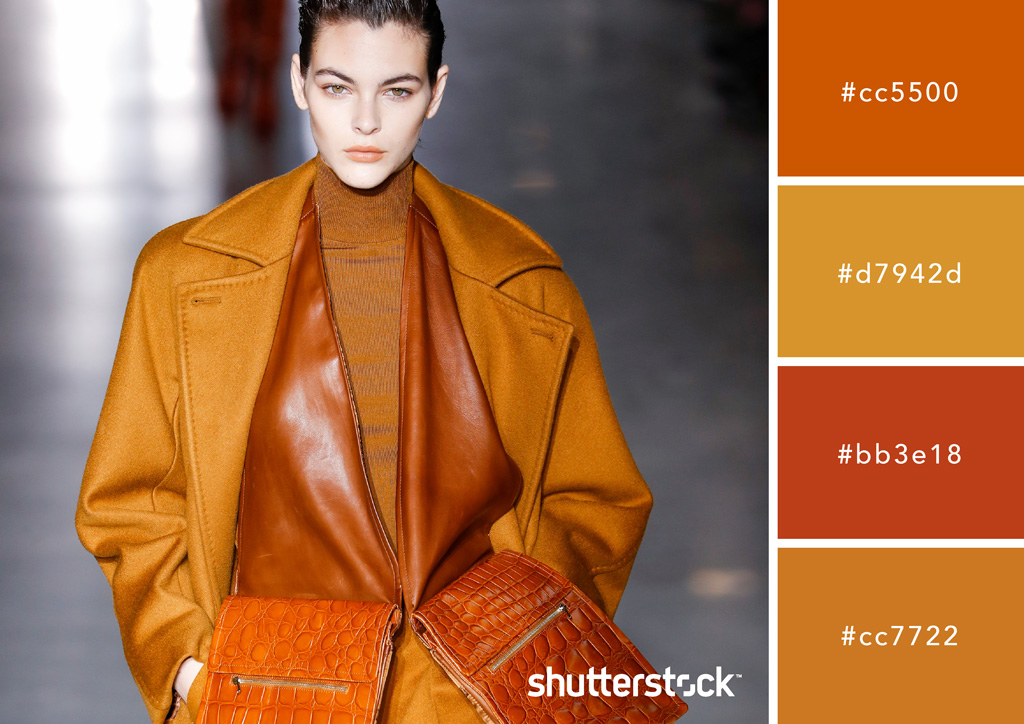 Eager to discover more incredible colors to use in your designs?
Discover a whole spectrum of incredible colors with our new color tool that helps to bring your projects to life.
---
Cover image via contributor Lucky Business.
Want to learn more about designing with color? Don't miss these articles: