Millennials, born between ~1980-2000, are now the most populous generation in the US since the Baby Boomers. They wield $1.3 trillion in annual spending, and will make up 75% of the workforce by the year 2025. Millennials are the first generation of digital natives: they're tech-savvy, adaptable, and hyper-connected, and Millennials today are dominant consumers tomorrow. 
However, a number of challenges face marketers looking to corner this unique generation: they're distrustful of traditional advertising, adept at blocking out ads, and split their attention between multiple devices and screens at once. So how do marketers reach this elusive generation?
The key is to think of the consumer-brand relationship as just that: a personal relationship. Both sides of the equation offer something to benefit the other: brands offer the product itself, as well as useful and engaging content, while consumers purchase and evangelize products. Content is king in the digital age, so the key to marketing to digital natives is to offer Millennials content that follows these key 6 themes:
1. Relevant
61% of Millennials believe their favorite brands reflect who they are, and 49% say they will evangelize a brand they feel represents their values, likes, and personality. Establish an engaging personality for your brand to help Millennial consumers feel a personal connection. If the consumer feels emotionally attached or tied to the brand, they'll be more likely to share your messaging with their friends and become an advocate for your brand. 
2. Educational
The digital age is one of knowledge, and Millennials are always looking for ways to improve themselves. There is a strong generational desire to be in the loop: 75% of surveyed Millennials say they want to be informed and are always looking to learn new things. Nearly half say they seek out educational online resources on a wide variety of subjects. Before selling your product or service, educate, add value, and genuinely help Millennials learn and grow. 
3. Entertaining
A recent report commissioned by Yahoo reveals that Millennials' top reasons to not skip a branded video are if it's brief and entertaining, so be short and funny! In a highly-saturated media landscape, content that entertains or provides a fresh take on something is what stands out. Sharing content is a large part of socializing in the digital age: if your content is funny, there's a higher chance it'll enjoy organic reach.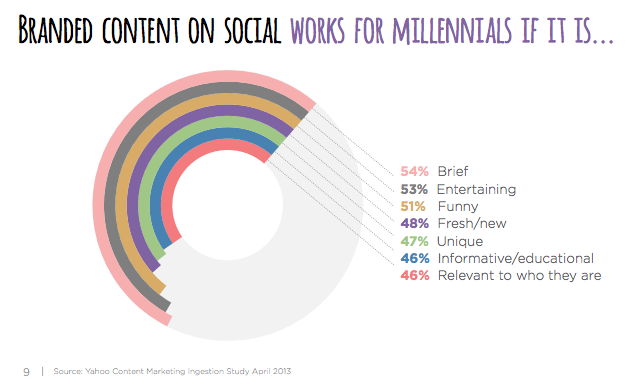 4. Authentic
A recent study by the Futures Company reveals that there is a direct correlation between a brand's core authenticity and how willing consumers are to recommend the brand. Millennials value honesty and integrity in individuals and brands alike: 87% of Millennials aged 18-29 say they appreciate when a company makes it clear what they stand for. Ensure your brand's marketing materials are forthcoming and honest and avoid staged content. 
5. Cutting-edge
Millennials are 2.5x more likely to be the early adopters of new technologies, and love being at the forefront of new developments. 56% of Millennials report that they are usually one of the first to experience a new device or format. Being wired and tuned in is important to Millennials, so leverage content around the most timely subjects or new formats (like 360 video or photo, cinemagraphs) to appeal to the early adopters.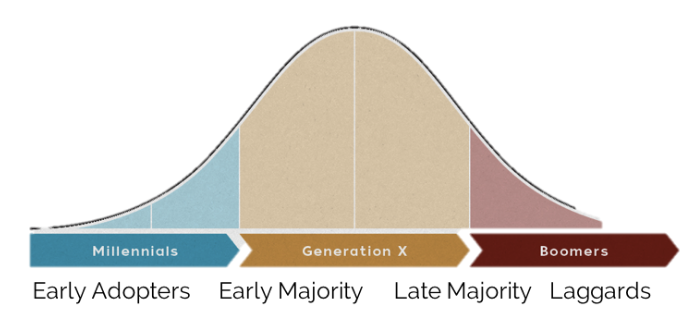 6. Socially responsible
83% of Millennials believe businesses should be involved in solving societal issues, and 82% think businesses could make a greater impact addressing these issues. Brands that incorporate social responsibility into their model see greater brand loyalty, and 50% of Millennial consumers say they'd spend more on a product if it meant a portion of the sale went to a charitable cause. So understand what cause your target care about, find out the genuine connection with your brand and leverage cause marketing in your communication.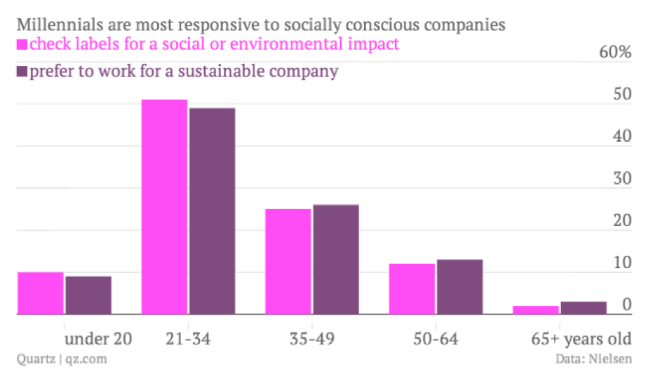 The key take away is to switch from the old fashioned broadcasting-style communication to personalized, value-adding communication based on what Millennials want to receive. Among the mega-trends of digital democratization, Millennials are at the forefront of redefining the relationship between consumers and businesses. As this dominant group matures over time, what does content looks like will be nothing like the ad copy seen in Mad Men. 0 Likes