By Angela Cho, Graphic Designer, Shutterstock
While designing an advertisement for coffee many years ago, I found myself in the situation of having to find several coffee-related images to incorporate into my design and very little time to complete the project.
We have all experienced this exact situation, at one time or another, so we can all agree that it is important to use time-saving, effective methods when gathering resources for a project.
Shutterstock understands these situations and provides multiple options for viewing search results. These options can help make your image search process as easy and streamlined as possible.
Image Order

Shutterstock offers multiple methods of displaying the order of your search results: Newest First, Most Popular, Oldest First, and Random.
If you run the same search on Shutterstock regularly, then Newest First would likely be your best option. For example, let's say you work in the medical field and frequently need images of doctors and nurses. If you regularly use a keyword search of "doctor" or "nurse" under the "Healthcare/Medical" category, you can execute this search with the Newest First option to see what images have been added most recently. As Shutterstock adds thousands of new images daily to its library, this method would ensure you find the freshest content.
On the other hand, let's say you're a freelance graphic designer currently under contract with a college. You may never have searched the "Education" category of Shutterstock's image library before. In this case, you may wish to sort using the Most Popular image order, and search for the keyword "college" under the category "Education" to find the best image selection for your project.
Shutterstock also offers Oldest First and Random sorting options, providing two more helpful ways to sort your results for a fresh view of what's available.
What is SafeSearch?
Due to our vast image library, sometimes a search for "spa", for example, can generate image results of topless individuals who are at a spa. While this search could be fitting for some design projects, it might not be the direction in which you want to go. By choosing the SafeSearch feature, you will remove R-rated images from your search results. In cases where you or people around your computer may be offended by adult-oriented photography or are under the age of 18, remember to check the box next to SafeSearch that appears in the upper-right hand corner of your results page.
Thumbnail Sizes and Number of Rows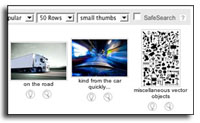 Whether you prefer to view your search results as large thumbnails for a more detailed view or small thumbnails for a general view, we provide that flexibility by offering both options. The same can be applied to the number of rows that can appear when displaying your image results. This feature will allow you to either view images five rows at a time or up to 50 rows at a time.
Inspiration Featured in Our Lightboxes
For your convenience, we display new and interesting images in our featured lightboxes on our homepage so you can access them for inspiration and new ideas. The themes for each lightbox are carefully chosen by our talented content management team, who strive to update the lightboxes on a weekly basis. Check back for new images to spark your next great idea.