By Angela Cho, Graphic Designer, Shutterstock
What is a Shutterstock Lightbox? A lightbox on Shutterstock is a folder you can create that allows you to organize digital images. Images can be assigned to viewable lightboxes by subject and saved for use at a later time. Lightboxes also allow you to show clients or colleagues options for a project in one simple uncluttered folder.
How Lightboxes Can Improve Your Workflow
Before product advertising begins, it is important to perform market research to determine who your customers and what their needs are, what the current market trends are and so on.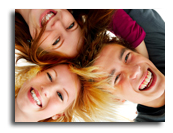 Define Your Demographic
Determining your target audience is one of the most vital components of marketing. One method in which this can be achieved is by creating a customer profile, and images can help to express a customer profile visually. While one single image may not be an exact representation of the type of customer that you envision, several images of faces, styles of dress, accessories, hairstyles, etc. can be quite useful. A set of images can form a useful composite of one's target consumer.
A Photo is Worth a Thousand Words
Did you ever have a great idea that you couldn't put into words? Sketching it out is always an option but for situations when tight deadlines are a factor, creating a lightbox of striking images can help to communicate your ideas efficiently. Similarly these lightboxes can be used to facilitate the creation of a storyboard which is a series of illustrations or images displayed in sequence for the purpose of previsualizing a media sequence such as a commercial or a web site.
Find Your Muse
We have all experienced those situations when we see something inspiring but when we finally go to write it down, the visual has already escaped our minds. The same situation can easily occur when we are searching for images. With the use of lightboxes, beautiful images that we come across can be saved and revisited later. Perusing existing lightboxes is a great way to spark new inspiration.

Organize and Share Your Images
While browsing through 3,000,000+ images, it's easy to become sidetracked in your search. Landing on a great photo or illustration can lead to more clicks and before you know it you have navigated away from your original image. One solution is to create a lightbox. This will enable you to organize your image choices and use them at your convenience. Lightboxes can also be used to share ideas. Rather than sending individual image numbers to colleagues, which can be disorganized and confusing, you can throw all of your choices into a lightbox and dazzle them with a visual selection.
From there, the possibilities are endless so begin your image search with us and let your lightboxes organize your creativity.
A Few Helpful Tips for Managing Lightboxes
• Lightboxes can be emailed to colleagues for viewing using the "send" feature. Just hit the send button when viewing a lightbox, enter your colleague's email, and hit "send email".
• If you want to collaborate with another person on building a lightbox, you can share lightboxes with anyone that creates a Shutterstock account. Simply hit the share button, enter the colleague's Shutterstock user name into the box, and hit "share lightbox". The next time the colleague logs in, they will see a notice on their homepage and will then be able to view and contribute to the shared lightbox.
• You can always rename your lightboxes at any time. Make sure to use clear naming conventions for your lightboxes if you set up more than one.
• You can add as many images to any lightbox as you want. Make sure to remove images that are unwanted so your lightboxes don't become too unwieldy to scan through.